Belmont University's Jack C. Massey College of Business recently launched its partnership with the Williamson County High School Entrepreneurship and Innovation Center, acknowledging the EIC's commitment to championing high school students towards entrepreneurial endeavors.
Ranked a Top 20 College for Entrepreneurship in the U.S., Belmont is equipped to support the EIC as it creates its entrepreneurship curriculum at the highest standard. The College of Business's goal is to lead both high school and collegiate level students to success in entrepreneurial launch of business and is proud to support the EIC in many ways, including sponsorship dollars, workshop series, professor mentorships and more.
Director of the EIC Dr. Kari Miller said the center was created to give high school students from across Williamson County an opportunity to open actual businesses and learn about entrepreneurship in an authentic, applied way. "This authenticity is only possible through collaboration with our local entrepreneurship ecosystem, of which Belmont University's Jack C. Massey College of Business is a pivotal member," she explained. "The EIC's partnership with Belmont's College of Business allows our students to learn exponentially more than they could ever learn from a traditional high school business course, and it provides a glimpse into the possible entrepreneurial pathways open to them in college and career."
The Williamson County High School EIC supports its students' businesses through adopting national curriculum standards, offering community entrepreneur mentorship and presenting business acumen workshops and entrepreneurship lecture series. With the support from Belmont's partnership, the newly organized center is positioned to be "best in class" and set a high standard for high school entrepreneurship programs, not only in the region, but nationally.
Details of the agreement include:
Non-restricted sponsorship dollars to support the EIC's efforts with student-run businesses
Jack C. Massey College of Business Entrepreneurial Workshop Series and Certificate Program delivered by entrepreneurship professors
Hosting the EIC students on campus for special events and entrepreneurial activities with collegiate students
Providing speakers outside of the workshop series on requested topics
Other programmatic offerings as needs arise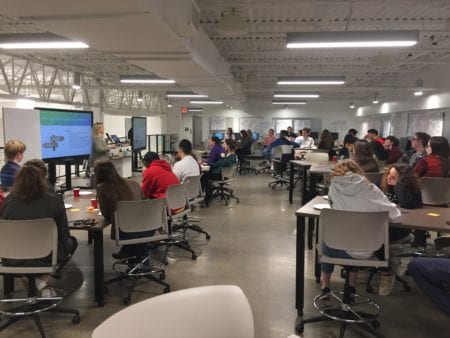 To kick off the partnership on January 14, Belmont hosted a talk with Associate Professor of Entrepreneurship Rachel Wilson about sources of funding, titled "Money Doesn't Grow on Trees." Wilson discussed understanding the best ways to fund a new business and common external sources of funding available for young entrepreneurs.
Another session occurred on February 4, as Entrepreneurship Professor Matthew Wilson presented "You think you have the next great idea… now what?" His session explored the feasibility phase of pursuing entrepreneurial ideas and reviewed the main components in the pre-launch phase.
There are several more events planned for the remainder of the spring semester, beginning at 5:45 p.m. each night and ending with a Q&A session.
On February 25, Jack C. Massey Professor and Chair of Entrepreneurship Jeff Cornwall will talk about career paths, exploring some of the paths that successful young entrepreneurs typically follow to achieve success. The talk will focus on gaining early experience with business startups and the power of bootstrapping in launching entrepreneurial careers.
On March 24, Professor of Entrepreneurship Mark Schenkel will present "Blue Ocean Strategy,"comparing and contrasting the concepts of market-creating ("blue ocean") and market-competing ("red ocean") strategic movements. Participants will explore these concepts, learning about principles and tools that can be important to understanding customers' pain points and interests as they seek to identify uncontested market space.
On April 14, Jack C. Massey College of Business Admissions Officer Taylor Dillon will present a session for students who are interested in pursuing entrepreneurship as a college major and highlight the benefits of choosing the Jack C. Massey College of Business.
The Jack C. Massey College of Business Entrepreneurship Program has been named a National Model Undergraduate Program for excellence in entrepreneurship education by the United States Association for Small Business and Entrepreneurship (USASBE), as well as a national Top 20 Undergraduate Entrepreneurship Program by the Princeton Review. In 2010, the program was featured by Fortune magazine as one of five schools to consider when studying entrepreneurship. These awards and distinctions place Belmont's Center for Entrepreneurship among the most exceptional entrepreneurship programs in the country.