Steven Bell, a senior information systems management major, was named Nashville Technology Council's Technology Student of the Year at an awards ceremony held on Thursday, Jan. 28 at the Country Music Hall of Fame. The ceremony is held each year and recognizes companies, teams and individuals in middle Tennessee that are moving the technology industry forward.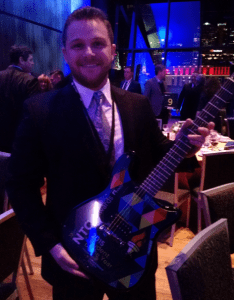 Bell, a student veteran and member of Belmont's Omicron Delta Kappa Leadership Honor Society, said receiving the award only validates his love for the technology industry and strengthens his commitment to remaining in the field. "This win is affirmation for me," Bell said. "It's affirmation that I am doing what I was meant to do and that my hard work is coming to fruition. I am humbled and honored that others recognize my passion for my work and that I have had the opportunity to showcase my skills to Nashville's top talent."
Moving forward, Bell has set his sights on furthering Nashville's technology community by becoming an educator and contributing to the knowledge of those to come. "I want to help influence younger generations to start learning early. I have a strong passion for teaching others, and I know that if I can impact future technology leaders by becoming a professor (preferably at Belmont!), I'll never work a day in my life."
Bell said he is grateful for his time at Belmont, especially the impact his professors have had on his success. "I have been blessed with professors who develop real relationships with their students," Bell said. "They have given me unwavering support and have helped mold my enthusiasm and motivation into deliverables. I could not have asked for a better platform to launch my career than at Belmont's Information Systems Management department. I am so grateful."
To learn more about NTC awards, click here.