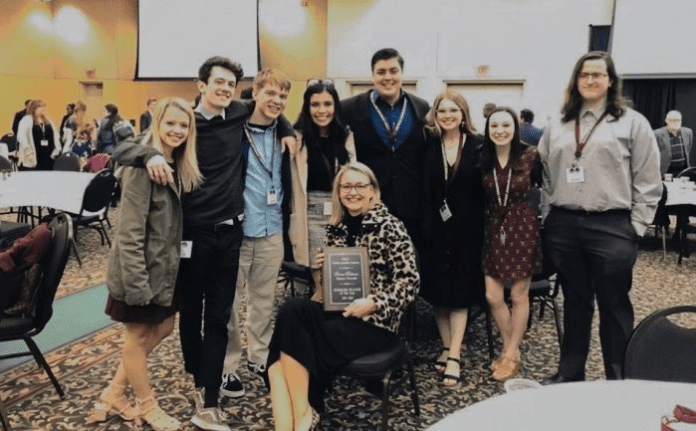 The Belmont Vision, Belmont University's student news organization, celebrated its many achievements last week at the 2020 Southeast Journalism Conference. The conference was held at the University of Southern Mississippi from Feb. 13 – 15.
At the on-site sweepstakes competition, the Belmont Vision placed third overall. Dorren Robinson, instructor of media studies and the Belmont Vision faculty advisor, was honored with the Journalism Educator of the Year Award at the Best of the South banquet held on Friday evening.
"I'm so incredibly proud of Dorren for winning Journalism Educator of the Year," said senior Tina James. "It is so well-deserved, and my heart was just swelling with love and pride for her. She's taught me so much, and getting to experience that moment with her is something I'll never forget."
Competing with more than 31 colleges and universities, the Belmont Vision won six awards in the Best of the South competition including content published on the Belmont Vision's site from November 2018 to November 2019. Joe Bendekovic and Justin Wagner both placed in the Top 10 for Best News Writer. Bronte Lebo won seventh place for Best Arts and Entertainment Writer. Steven Boero won second place for Best Sports Writer. Caitlin Alexander placed in the top five for Best Television News Feature Reporter. Colby Crosby won ninth for Best Press Photographer.
"I am unbelievably proud of my staff for the amazing work they've done," shared Belmont Vision editor Steven Boero. "The Best of the South represents our hard work and dedication all year. It's so wonderful to see my colleagues be rewarded."
On Robinson's award, Boero added, " I can't think of anyone who is more dedicated to her classes and her students. Dorren deserved this award more than any teacher or adviser I've ever had. She works just as hard as us and is always there to make sure we are growing as writers, reporters and people."
During the on-site competition, members of the Belmont Vision staff won five awards from more than 150 competitors and 31 schools. Sarah Lawson won first place for Copy Editing. Marissa Avnaim won second place in TV Anchoring. Tina James won third place for Public Relations. Evan Dorian won third place for Sports Writing. Rob Redel won second place for Current Events.
"Winning third place in Public Relations was a pivotal moment in my college career," said James. "Competing at this conference as a senior was a test to see if I truly got everything I wanted out of my education to successfully apply skills outside the classroom. It was a wonderful feeling to know that all of my preparation, practice and much more paid off."