Former NATO Supreme Allied Commander General Wesley K. Clark (ret.) brought his "Renew America Together" initiative to Belmont's campus on January 13 and welcomed Former Governor of Arkansas Mike Huckabee to share a conversation about civility and important issues facing America during the event. Longtime journalist Demetria Kalodimos moderated the conversation between Clark, a retired four-star U.S. Army general and 2004 Presidential candidate, and Huckabee, a candidate in the United States Republican presidential primaries in both 2008 and 2016.
Renew America Together was created to promote and achieve greater common ground in America by reducing partisan division and gridlock. In today's era of hyper partisanship, the Democratic and Republican leaders sought to host a constructive dialogue in order to promote and teach civics, citizenship and civility.
Their conversation focused on topics such as civil discourse, trustworthy news sources and current issues.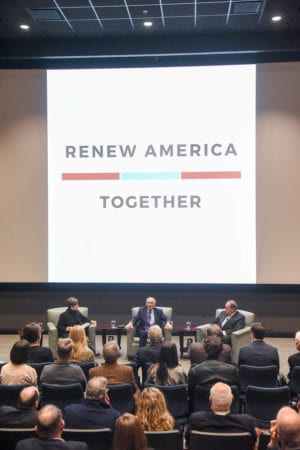 Belmont President Dr. Bob Fisher said the University was excited to host the event and looks forward to holding more educational opportunities for students and the Middle Tennessee community in 2020 as part of the University's hosting the final Presidential Debate in October. "This conversation on civility was a great way to start a year where we hope to be a center for people to debate issues on civil and neutral ground," he said.
This event was one stop along Renew America's tour across the country, after previously visiting venues including New England College, Lyon College, the Universities of Pennsylvania and Virginia, Grand Valley State University and the World Affairs Councils of New Hampshire and Hilton Head in 2019. To learn more, visit www.renewamericatogether.org.