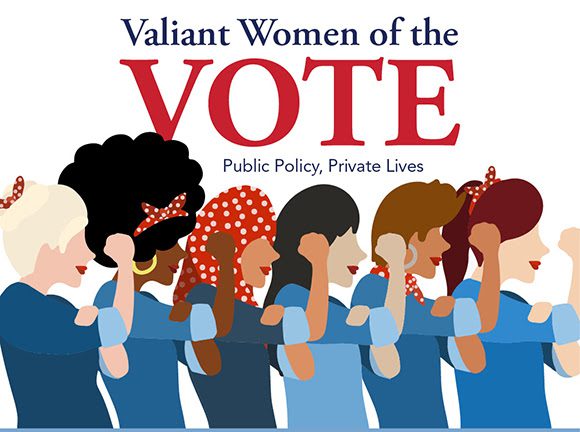 Note: All events listed here have been cancelled after spring scheduling changes due to the coronavirus outbreak.
This year, Belmont University is celebrating Women's History Month with programming that will examine the intersection of public policy with private life. These events will explore how women have impacted – and been impacted by – the past century of public policy since women were granted the right to vote.
"The national theme for the 2020 Women's History Month is 'Valiant Women of the Vote,' and we've decided to highlight valiant women who are acting as agents of change on both local and global levels," shared Dr. Amy Hodges Hamilton, professor of English and co-chair of Belmont's Women's History Month. "Join us this month as Belmont honors those women who have worked tirelessly to restore humanity and rights in their own lives and the lives of countless others."
The remaining events of this month's celebration include:
"By One Vote": Women's Suffrage in the Margins of History: March 5, 10 a.m. in Janet Ayers Academic Center 1037. Join the College of Liberal Arts & Social Sciences for a screening of "By One Vote: Woman Suffrage in the South," highlighting the crucial role of Nashville legislators in the decision to ratify the 19th amendment. The event will include remarks by guest speakers Beth Curley, executive producer and former CEO of Nashville Public Television, and producer Mary Makley.
The Transformative Power of Education and Research: Week of March 15. Explore global issues like trauma informed care, health, human rights and public histories with Dr. Heather Finch, Dr. Amy Hodges Hamilton, Dr. Mary Ellen Pethel, Dr. Cathy Taylor and other scholars, as we consider valiant women around the world.
"On the Basis of Sex" Film Screening and Discussion: March 19, 6:30 p.m. in the Johnson Theater. Don't miss the screening of "On the Basis of Sex," the story of Ruth Bader Ginsberg's early career and famous case that launched the Sex Equality Under the Fourteenth and Equal Rights Amendments. After the showing, Dr. Cheryl Slay Carr, associate dean of music business, will lead a discussion on this impactful case and iconic woman.
Purity and Patriarchy: March 23, 10 a.m. in the Janet Ayers Chapel. Guest speaker Dr. Kristin De Mez, professor of history and gender studies at Calvin University, will discuss "purity culture" in relation to the #MeToo and #ChurchToo movements.
The Challenge of Feminism in Christianity: March 23, 2 p.m. in Janet Ayers Academic Center 5001. Guest speaker Dr. Kristin De Mez will lead a discussion on overcoming the negative connotation surrounding feminism in Christianity and share insight from her book, "A New Gospel for Women: Katharine Bushnell and the Challenge of Christian Feminism."
Sacred Stories: Quilting as Art and Life: March 30, 10 a.m. in Janet Ayers Academic Center 1034. Quilting, like many forms of art, is a significant type of storytelling. Dr. Robbie Pinter, professor of English and co-leader for the Belmont in Native American Lands program, will discussion the inception and development of quilt-making among the Lakota Sioux Tribes.
Take Back the Night: April 7, 6:30 p.m. in Janet Ayers Chapel. Belmont's annual Take Back the Night event seeks to raise awareness about violence against students, give students a voice in their safety on campus and provide easily accessible resources for violence prevention and study safety. The night will include a march and keynote address by Dr. Charlotte Pierce-Baker, a retired professor emerita at Vanderbilt University, renowned scholar and author of "Surviving the Silence: Black Women's Stories of Rape." Break the silence, lift up each other's' voices and take safety into our own hands by taking back the night.