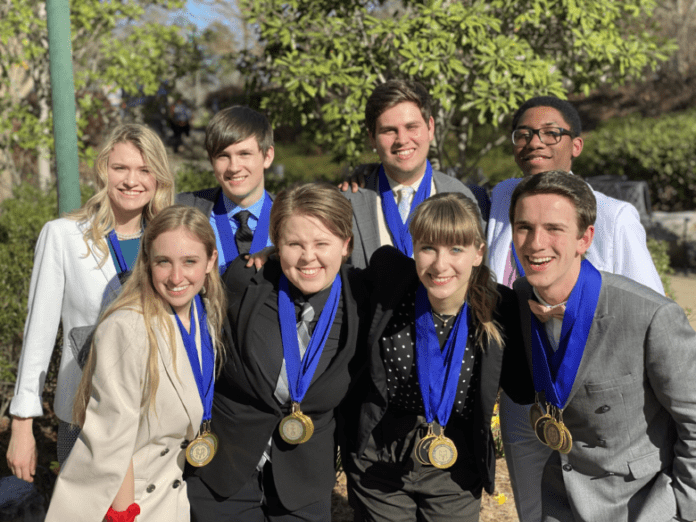 Eight Belmont freshman perfected their presentation skills to a nationally competitive level before attending the Novice National Forensics Association Tournament March 6-8 at Berry College in Rome, Georgia. Belmont placed 2nd overall out of 25 universities that competed.
Students competed in a variety of events including debate and public speaking as well as performances of literature. Of the 16 events, Belmont students took first place in 7 of the 16, nearly half of the national champions crowned at the tournament. The team also won the "quality award" which recognizes the school that had the highest percentage of success per entry, essentially making them the most effective competitors at the tournament.
When asked what brought their students such success this year, Ryan Greenawalt, director of individual events, explained that "these novices have worked harder than any first-year squad I have ever seen."
And their time together has paid off in more ways than just competitive success. Freshman Luke Litz explained, "this weekend was the culmination of what has been an incredible year for our team. Competing with these guys is amazing. We're all a big family."
Varsity team members will be vying for their own national titles in April at the National Forensics Association tournament to be held at the University of Wisconsin, Whitewater.
Below is a full list of awards earned by Belmont students at the tournament.
IPDA Debate Tournament

Luke Litz, Semi-Finalist
Carly Crotty, 2nd Place

IPDA Tournament Speaker

Carly Crotty, 2nd Place
Luke Litz, National Champion

Extemporaneous Speaking

Carly Crotty, 2nd Place
Luke Litz, National Champion

Radio Broadcasting

Aaron Kleinschmidt, 5th Place
Emma Johansson, 4th Place
Sarah Carvalho, 3rd Place

Rhetorical Criticism / Communication Analysis

DJ Needs, National Champion

Impromptu Sales

Sarah Carvalho, Semi-Finalist
Aaron Kleinschmidt, 2nd Place
DJ Needs, National Champion

Duo Interpretation

Aaron Kleinschmidt / Emma Johansson, 2nd Place

Impromptu Speaking

Sarah Carvalho, Semi-Finalist
Carly Crotty, 6th Place
Luke Litz, National Champion

Informative Speaking
Programmed Oral Interpretation

Tyi Eason, 5th Place
Emma Johansson, 4th Place

Slam Poetry

Sarah Carvalho, 4th Place

After Dinner Speaking

Emma Johansson, 2nd Place

Persuasive Speaking

Sarah Carvalho, 5th Place
Alivia Kempf, National Champion

Poetry Interpretation

Aaron Kleinschmidt, 2nd Place
Sarah Carvalho, National Championship

Individual Tournament Sweepstakes

DJ Needs, 6th Place
Aaron Kleinschmidt, 3rd Place
Sarah Carvalho, 2nd Place

Team Awards

Division 1 & Open Team Sweepstakes, 2nd Place
Team Sweepstakes – Quality Award, National Champions