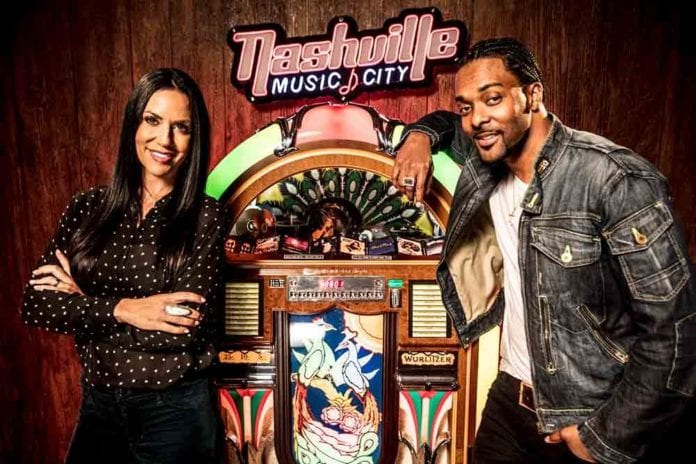 Several Belmont students had the chance to work in production of the inaugural season of "The Song – Recorded Live @ TGL Farms," which premieres Saturday, January 4 at 4 p.m. central on Nashville's MyTV 30 (Comcast/Xfinity HD channel 1030) and again that evening at midnight on FOX 17 (Comcast/Xfinity HD channel 1017.) More than 130 additional markets will begin airing the show throughout the weekend.
Conceived, produced, shot and edited in Nashville, the show includes intimate performances by superstars such as CeeLo Green singing "Crazy," Rick Springfield singing "Jessie's Girl," Don McLean and his iconic hit "American Pie" and more. In-depth interviews with the artists and songwriters reveal never-before-heard details behind those songs, the inspiration and how they became woven into the fabric of popular culture.
"The Song" created a video (password: belmont) featuring music business students Janet Bergquist and Jayne Hamblin and creative entertainment industries studies major Coleen Solitro working behind the scenes.
Industry veteran Craig Campbell of Campbell Entertainment Group helped coordinate the Belmont students' participation. "The Belmont students have been an integral part of each of our nine tape days," he said.
"The Song – Recorded Live @ TGL Farms" will air in national syndication on predominantly CBS, ABC, FOX and NBC affiliates across the country including New York, Boston, Atlanta, Detroit, Dallas, San Francisco, Miami and Seattle. Gray Television will distribute the series, which is presented by Ally and powered by Nashville Music City.
The show will continue its partnership with Mike Curb College of Entertainment & Music Business to provide both scholarship and internship opportunities to help develop new talent in the music, media and television arts disciplines. This partnership will be supported by a $25,000 donation from Ally.
Executive produced by Marc Oswald, Cary Glotzer and award-winning director Trey Fanjoy, the series was filmed at TGL Farms in Hendersonville, Tennessee. Season one will include nine 30-minute fast-paced episodes hosted by Krista Marie and Damien Horne and a one-hour "Best of The Song" finale co-hosted by CeeLo Green.
"The Song – Recorded Live @ TGL Farms" Season One Lineup by Episode and Featured Song:
Jan. 4: CeeLo Green – "Crazy"
Jan. 11: Big & Rich featuring Cowboy Troy – "Save A Horse"
Jan. 18: Rick Springfield with special guests The Sisterhood Band – "Jessie's Girl"
Jan. 25: All-4-One – "I Swear"
Feb. 1: Lonestar featuring Jim Messina – "Amazed"
Feb. 8: Rome Ramirez Featuring Dirty Heads – "Lay Me Down"
Feb. 15: Travis Tritt – "Great Day To Be Alive"
Feb. 22: Don McLean – "American Pie"
Feb. 29: Gretchen Wilson – "Redneck Woman"
Mar. 7: Best of Season One
For additional information, visit thesong.tv.