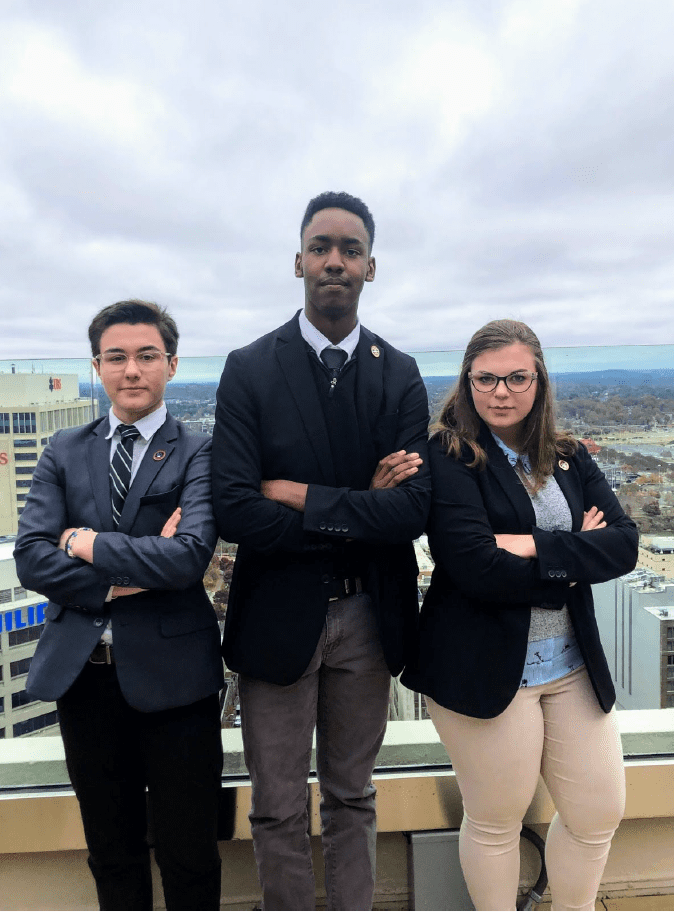 The Tennessee Intercollegiate State Legislature hosted their annual General Assembly session this past november where students from Belmont were able to use their voices and learn more about how the government works. Keidron Turner, Chloe Vaughn, Jace Wilder and Lauren Stanfill represented Belmont at this year's virtual event and left the experience with many accomplishments under their belts. 
The students joined other students across the state of Tennessee to participate in the weekend-long mock legislative session, which consisted of students writing, presenting and debating legislation and lobby bills. Students also had the opportunity to document the event through TISL media. 
Keidron Turner, sophomore politics and public law major, and Chloe Vaughn, junior political science and global leadership major, were among the students that succeeded in getting their bills passed at the session. Vaughn was also elected as the TISL's state treasurer for the year where she will work to plan next year's general assembly. Each elected position has the chance to serve throughout the year with their term ending at the next general assembly.
The bills that are submitted each year can range from civil rights, education, healthcare and more. Students have the opportunity to submit bills that can be passed on to the TISL's House and Senate chambers which move to the Tennessee General Assembly. From there, bills are debated and examined to possibly become Tennessee law. Belmont's delegation submitted three bills with two of them being passed through the House and Senate chambers and are currently being processed by the TISL leadership.
Jace Wilder, junior political science and public health major, won the Carlisle Award for the organization's best senator. The Carlisle Award is granted to ten outstanding legislators and is the oldest and most prestigious award. Wilder is Belmont's head delegate and won the award and best senator for his distinguished performance in this year's assembly.
Freshman politics and public law student Lauren Stanfill represented Belmont at the assembly by serving in the position of CEO for the Healthcare and Education lobbying firm. Stanfill's role was to decide the direction of the firm by analyzing each bill and choosing whether or not to lobby for legislation.
Although virtual this year, Belmont students were still able to experience the event and carried out a noticeable and outstanding performance.