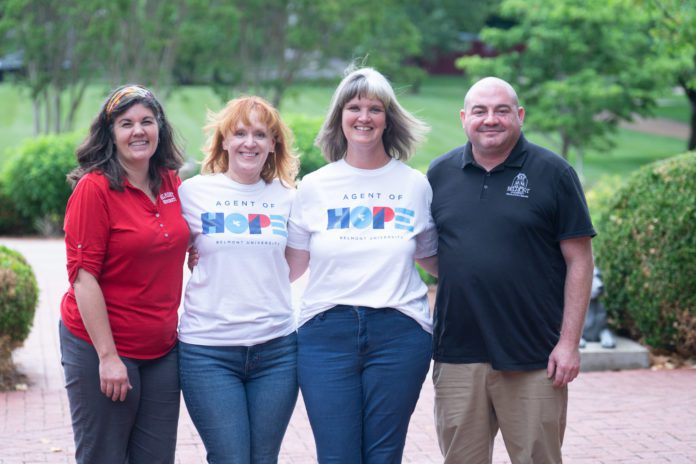 Five staff members were recognized throughout the 2022-23 academic year for going above and beyond their roles on campus to shine as beacons of hope. The University Staff Advisory Council (USAC) presented the awards for the first time this year as a way to recognize more staff on campus who may not have the longevity to be selected for the Gabhart Award and to honor President Dr. Greg Jones and his direction for Belmont.
Though winners were presented their awards throughout the year, Leigh Hitchcock, Arlie Paris, Katherine Cornelius, Matt Rollins and Misty Wellman were collectively recognized at the USAC Spirit Week programming on May 12. 
The awards were:
Hope Inspiring – Leigh Hitchcock, Honors Assistant Director
A hope-inspiring person is someone who leads with kindness and generosity. They are someone who seeks to solve the world's problems and improve the lives of those around them by choosing to be a light in the world – and inspires others to do the same.
Leigh's nominator wrote: Leigh embodies the spirit of steadfast hope. She is calm, generous with her time and a whiz at remembering details. One specific way she inspires hope is through tirelessly advising Belmont Global Honors students, many of whom have lots of different interests and who, especially in their first and second years at Belmont, are trying to find what "lights them up." As students ponder changing their majors or struggle with family or personal issues, Leigh takes the time to listen, to hear them and to give them perspective and hope.
Character Forming – Arlie Paris, Program Assistant for the School of Occupational Therapy
A character-forming person is someone who exhibits a passion for thinking, feeling, perceiving and living like Christ. They are someone who consistently invests in the molding of our students so that they are fully formed academically, emotionally, physically, culturally and spiritually.
Arlie's nominator wrote: Arlie models how to be a true servant leader. She builds community, improves morale and shares the love of Christ each and every day. From day one, she approached her role in our department with enthusiasm and confidence, and she truly treats everyone with the utmost respect. She has helped create a positive, welcoming and loving culture in our department and for our students on campus. Arlie is one of the first faces that our incoming students see during their orientation, and she embraces them with such positivity and grace. She supports students in their growth by consistently listening to their perspectives, meeting them where they are and encouraging them to take the next step. She is an enhancer: she takes others' ideas and dreams and facilitates them coming to fruition. And, she does all this while pursuing her own academic and professional goals.
Future Shaping – Catherine Cornelius, Director of Counseling Services
A future-shaping person is someone who remains determined to solve the challenges facing our students, our community and our world by "skating to where the puck is going." They demonstrate a commitment to helping communities grow and develop the skills necessary to take on the future.
Katherine's nominator wrote: Katherine is the embodiment of Future Shaping. During her tenure as the director, she has completely remade the center into what is offered at the leading edge of college counseling services. From the introduction of new and innovative group therapy programs to training her staff in the latest therapeutic methods to meet the changing and evolving needs of our students. Katherine has always been encouraging in her care and concern for staff as well, especially for the cumulative effect our work has on caregivers and first responders. Katherine has been unwavering in her willingness to train our staff in crisis intervention and care.
Community Engaging – Matt Rollins, Event Operations Coordinator
A community-engaging person is someone who regularly invests time and effort into meeting the needs of the community and making life abundant for all. They open the doors of opportunity for all members of our community in Belmont, in Nashville and beyond.
Matt's nominator wrote: Matt always has a great attitude and works every event tirelessly. Matt has taken on the responsibility of training and mentoring the Event Services Student Workers before they are put out on their own to function and lead a team. Matt will always drop everything he is doing to help someone else with a problem or challenge. Matt exemplifies the meaning of family and the Belmont Family.
Bridge Building – Misty Wellman, Budget Manager for the College of Health Sciences
A bridge-building person is someone who radically champions the thriving of our neighbors through the simple acts of loving our neighbors as ourselves and honoring each other and our differences. They demonstrate hospitality and inclusivity in order to fulfill the Greatest Commandment: Love God, love neighbor.
Misty's nominator wrote: Misty is a servant leader who demonstrates her love for her colleagues through service on committees that pour into their personal lives to enhance well-being. Misty co-leads the Fellowship of Faith on Wednesday mornings – an intentional time for faculty and staff to gather and share a time of spiritual reflection and prayer. Misty also has been an active leader on the CHS Wellness committee – again creating space and opportunities for her colleagues to renew and take care of their overall well-being. Misty is a consistent advocate for those who need a voice – she was President of USAC and spoke up for many issues and concerns to help build bridges between various staff groups and other stakeholders. Misty cares deeply about her colleagues and the work culture at Belmont. She lives the Belmont values and shines her light to lift others up whenever she has opportunity.