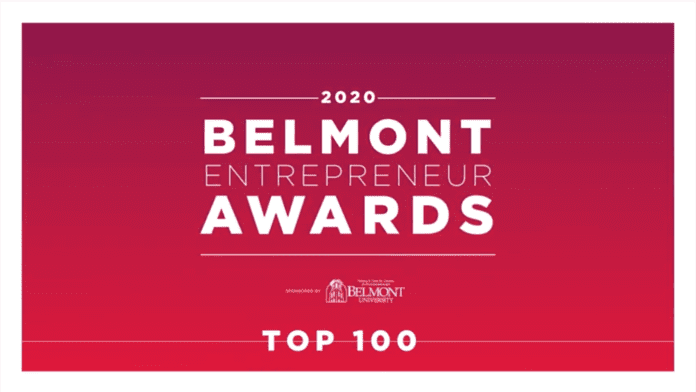 Ranked again as a Top 20 National Program, Belmont University's Thomas F. Cone Center for Entrepreneurship continued the success of last year's inaugural Top 100 Entrepreneurship Awards by hosting the event again, this time virtually and with 35 new additions to the list of alumni entrepreneurs.
The Belmont Entrepreneur Awards recognize alumni who have started innovative and unique businesses, honoring founders who are excelling in business and challenging their industries. To commemorate the entrepreneurial spirit of Belmont University, 100 outstanding alumni businesses, including 10 rising businesses, are honored in the Top 100. In 2020, the list includes alumni graduating from 31 different majors and now residing in 27 cities.
"The 'Top 100 Entrepreneurs' awards is a marvelous showcase, both for the businesses themselves as well as for Belmont's Cone Center for Entrepreneurship," said Dr. Sarah Gardial, dean of the Massey School of Business. "Belmont continues its proud legacy of helping entrepreneurs combine their creativity and passion with business acumen and mentoring – and the results are impressive. There is a reason Princeton Review has ranked this program No. 20 in the U.S. for the past two years."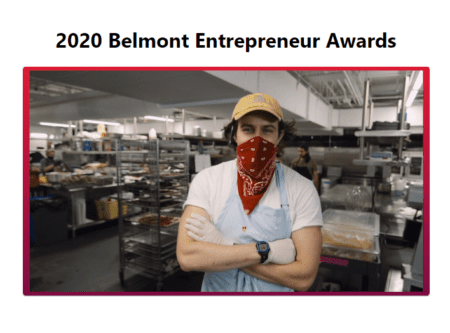 The Cone Center for Entrepreneurship supports students from all majors who are wanting to start their business. Whether it's a hobby turned career or wanting to start the next big thing, the Center provides resources to guide them along the way, from ideation to launch. Some of these resources include clinics, workshops, Belmont's business accelerator, competitions, mentorships and more. The goal is to guide students through the process of starting their business and to support them as they grow and succeed after graduation.
One example of this is the success two alumni have found in their business Bizi's Vitamin Honey, included on this year's "Rising Ten" list in the Top 100. 2020 entrepreneurship graduate James Richard spoke during the awards ceremony about the story of co-founding his business with fellow alumnus Ethan Akdamar, looking for a way to combine raw Tennessee honey and certified supplements to help people get their daily doses more easily, especially for those like Richard's brother who have Crohn's disease and can't have the fillers in regular supplements.
"Starting this business in college is not the easiest thing to do, but we benefited from being in Belmont's Entrepreneurship program. During our classes we had time to sit down and break down our marketing strategy, break down our target market and look at the numbers, which was ultimately super beneficial in helping us in the long run," Richard explained.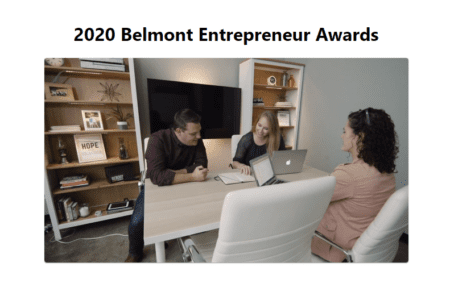 "We were also able to be part of the accelerator program which was really awesome because we got to meet and talk with real entrepreneurs, ask them questions about how they got started, and learn about what they do day to day. And then we got the opportunity to join pitch competitions where we won some startup money and made connections with other entrepreneurs who have helped give us direction as we got started. We are just super thankful to be part of the entrepreneurship program and an alumni group. Vitamin honey has been doing awesome, and we are so grateful to be doing it full-time."
Director of the Center for Entrepreneurship Elizabeth Gortmaker hosted the virtual event and thanked two of the alumni ventures that made the event possible. Geode Events hosted the event through their platform and allowed attendees to network before and after the ceremony, and Pack Films ran the camera for the show, in addition to filming the Top 100 Announcement.
New this year was a nomination process and the announcement of the Bruin Launch Fund. With this new fund, alumni can directly support graduating seniors in their entrepreneurial efforts. The Bruin Launch Fund is entirely funded by alumni who seek to pay it forward. 100 percent of funds are awarded directly to select graduating seniors for the purpose of starting their businesses. Alumni can join the fund here.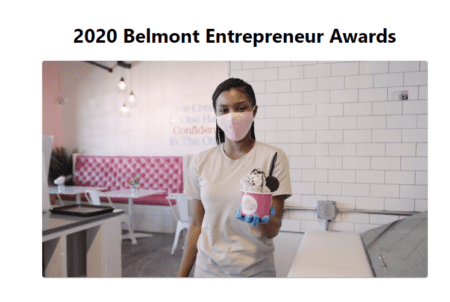 "These entrepreneurs have incredible visions for the future. They've developed unique and impressive businesses and have continued to grow and succeed, even during such a challenging year," Gortmaker said. "To our alumni, you have thrived in what has felt like an impossible year. We're blown away by what you've accomplished, and we are so happy to celebrate you today. Life as an entrepreneur is not easy, especially in 2020. But the work you do truly makes a difference in this world. You've all gone out and done amazing things, and we are proud to call you part of the Belmont family."
The event video with the full list of entrepreneurs and a digital version of the book can be found at BelmontETP.com/Awards.