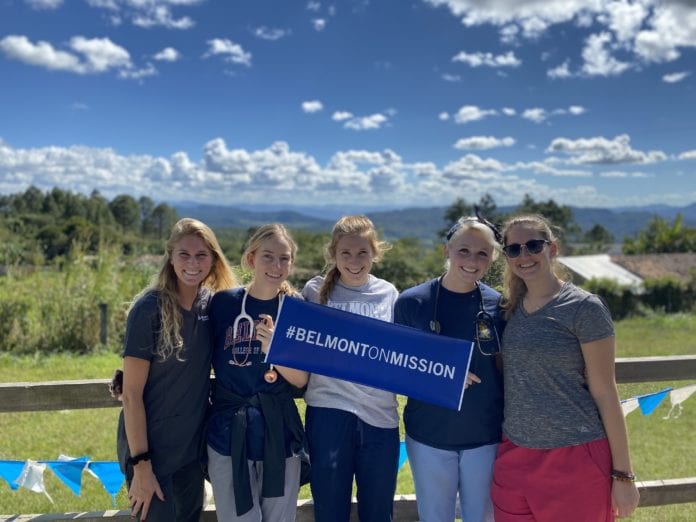 The week following final exams, a group of 25 College of Pharmacy students from both Belmont and Lipscomb Universities travelled to El Zamorano, Honduras on a medical trip with Belmont on Mission. The team split its time between spending time at Jovenes en Camino, a home for 50+ boys from the area, and setting up mobile clinics. In these clinics, the students spent time ministering to and serving the surrounding areas in the Zamorano valley by providing medical care and medication to those without access to adequate health care.
Trisha McHugh, P3, described a typical day. "We prepared a triage center and three different clinic rooms outside the mobile pharmacy. From there, we started seeing patients from the community. There were men and women off all ages from the area and we treated all that came through our doors," she explained. "Every single smile, hug, and 'gracias' only reaffirmed that what we were doing mattered. We provided fluids for someone in severe dehydration. Medication was given to families who were struggling with infections. Prayer was spoken over parents dealing with loss of loved ones. Every single moment worthy of our full time and devotion."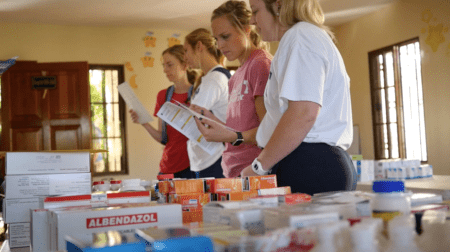 This team was the result of the combined effort from the deans of the Colleges of Pharmacy from Belmont and Lipscomb, Dr. David Gregory and Dr. Roger Davis, respectively. As long-time supporters of Jovenes en Camino, both universities were eager to formalize their partnership, understanding the importance of service-focused education for students.
MacKenzie Firek, P2, said, "This trip has given me time to reflect on how God intertwined my story with all the people I meet and those who came with me. Everything I had done from choosing a profession in pharmacy to choosing to go to Belmont brought me to this one moment were my story intertwined with others. This trip has taught me to cherish every moment and know there is a reason my paths cross with certain people in life."