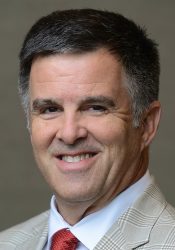 Dean of Belmont's College of Pharmacy Dr. David Gregory offered his knowledge and writing skills to two chapters in the latest title published by the American Pharmacists Association called "Sports Pharmacy: Performance Enhancing Drugs, and the Athlete."
Gregory joined other authors from the University of Mississippi: Pharmacologist Dr. Marvin Wilson, Athletic Director and Physical Therapist Dr. Shannon R. Singletary, and Pharmacy Law Professor Dr. Erin R. Holmes. Gregory wrote Chapter 7: Therapeutic Uses of Performance Enhancing Drugs and co-authored Chapter 3: Prohibited Substances and Their Actions with Wilson.
The book provides a comprehensive compilation of information in a single location on performance-enhancing substances by United States collegiate, amateur and professional athletes. The pharmacology of all classes of performance-enhancing drugs is discussed, as well as any data that support their use, covering a wide range of laws, policies and regulations concerning the use of substances by athletes.
With the breadth of topics covered, Sports Pharmacy is the most complete text available on performance-enhancing drugs. No other title comes close to the comprehensive nature of the topics discussed in this groundbreaking resource.