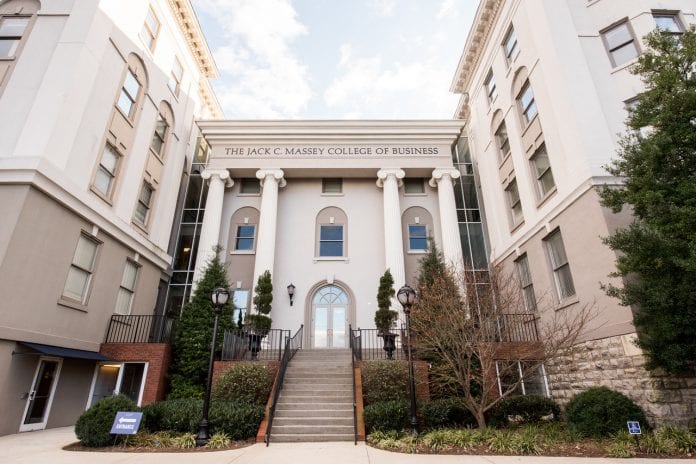 The Jack C. Massey Graduate School of Business is one of the nation's most outstanding business schools, according to The Princeton Review®. The education services company profiles the school in its recently reported list, "Best Business Schools for 2020."
Dean Dr. Jan Williams said the Massey College of Business is honored to be identified by The Princeton Review as one of the nation's most outstanding business schools. "While many MBA and master of accountancy programs are experiencing enrollment declines, our numbers have remained strong due primarily to the close ties our faculty maintains with the healthcare, entertainment and other rapidly-expanding industries in Nashville," he said. "Graduates often comment on the personal touch of a smaller university, coupled with the many opportunities for active engagement with business. Our graduates credit the strong foundation they receive in our programs as a major factor in their rapid career advancement."
The Princeton Review chose the schools for its 2020 list based on data it collected from surveys of administrators at business schools during the 2018–19 academic year.
The administrator survey, which numbered more than 200 questions, covered topics from academic offerings and admission requirements to data about currently enrolled students and graduates' employment.
The Princeton Review's student survey, conducted during the 2018–19, 2017–18 and 2016–17 academic years, asked students about their school's academics, student body and campus life, as well as about themselves and their career plans.
One student was quoted saying, "Working professionals want to learn skills they can apply in the workplace, and Belmont caters to that goal. Here, 'the classes are focused on real world topics' and 'the learning style is hands-on.' In the classroom, 'the program is largely case-based, encouraging students to use critical thinking skills and sharpen interpersonal skills,' and across disciplines, 'the professors encourage classroom discussion.'"
Another student adds, "[Belmont] is big enough to offer amenities and benefits of a large school, but small enough to still be a tight-knit group." On this community-oriented campus, "fellow students, the professors and the school staff seem to sincerely care about me and each other."
The Jack C. Massey College of Business at Belmont serves undergraduate, graduate and executive education students, providing nationally-recognized AACSB International accredited business education programs. The mission is to provide an innovative learning experience – both practical and discipline-based – by faculty who have industry experience and globally-recognized academic credentials.