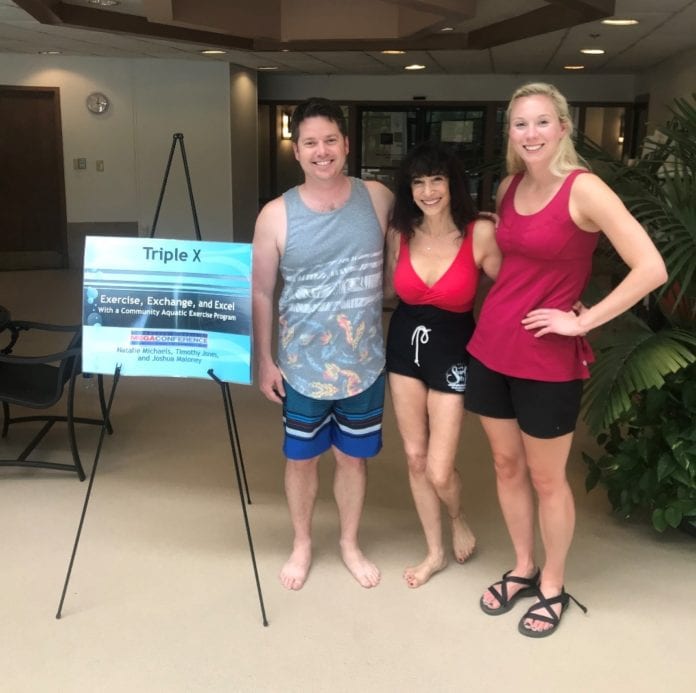 Dr. Natalie Michaels, PT, EdD, along with Dr. Josh Maloney, DPT, and Malorie Sweat, SPT, led an Aquifit session for the participants at the 2019 Tennessee Disability MegaConference this past May at the Nashville Airport Marriott. Maloney is a physical therapist at Adoration Home Health in Carthage, Tennessee who has worked with Michaels on the Aquifit program, and Sweat is a student in the DPT program at Belmont. This is her second time volunteering with Aquifit.
Michaels, a professor in both the Occupational Therapy (OT) and Physical Therapy (PT) Departments at Belmont, started the Aquifit program about 10 years ago to provide aquatic exercises for wellness, socialization and enjoyment to members of the community. Exercises are performed pool-side, to music, while community members exercise in the water. Participants at the MegaConferences stated that they enjoyed the session, and commented on the professionalism of the Belmont student.
The MegaConference is the largest disability-specific conference in Tennessee for people with disabilities, along with their families and health care professionals. People come to the conference to share ideas pertaining to health care, recreation, mental health, etc. The conference is run yearly by the Arc of Tennessee, which was founded in 1952 as a non-profit, grassroots advocacy organization for people with developmental and intellectual disabilities and their families.