With an eye to the future, Belmont University announced today the launch of an innovative new major designed to take advantage of an increasingly digital ecosystem around the globe: Social Media Management.
As the world of social media continuously rises and evolves, organizations of all types and in every sector are navigating the ever-changing media landscape and looking for communication strategists to help them maximize their use of social media. Belmont is bridging the gap between the personal and professional use of social media by preparing students for a growing industry with its new major in social media management.
As one of the few institutions in the nation to offer a traditional bachelor's degree in this field, Belmont is providing students with the opportunity to hone their skills and expand their knowledge to become strategic social media communicators.
According to the U.S. Bureau of Labor Statistics, social media specialists might go by various job titles, including digital engagement specialist, social media strategist and online community manager. Indeed currently lists more than 60,000 openings for full-time social media jobs in companies across the country. Onward Search's 2019 Salary Guide lists social media manager as one of the "19 most in-demand digital creative talent for 2019." However, with the list including additional jobs such as content strategist, digital project manager or digital strategist, Belmont's program would prepare students for nine of the 19 most in-demand positions.

Belmont Provost Dr. Thomas Burns said the new social media management program is greatly beneficial for students and organizations globally, as this industry continues to revolutionize society. "By learning to think strategically, solve problems creatively and communicate purposefully, our students will be equipped to find success with highly in-demand positions in every sector across the country," he said. "As one of the first in the nation to offer this program for our undergraduates, our students are in a unique position to be competitive and stand out through real internship experiences in the booming city of Nashville."
Social Media Management will be offered at Belmont in the form of both a major and a minor. Through a mix of public relations and social media courses, students will learn to develop plans for social media to support communication goals, design and conduct research, create engaging content, identify and respond to emerging risks and crises and practice responsible social media management.
The curriculum is designed around five key areas that make up the core of the National Institute for Social Media's social media strategist certification exam. The five key areas are relationship building and strategic planning, research and analytics, content creation, engagement and community management, leadership, ethics and law.
Program Director Dr. Kevin Trowbridge explained that, with social media being such a dynamic field, there are not many professional credentials or standards developed yet. "Our program builds on academic and professional research, including the criteria used by the National Institute for Social Media, which administers a certification process for professionals who understand social media as a powerful platform that can truly affect and shape society," he said. "Organizations and businesses are using social media platforms for more than just marketing and publicity; they're using it to build community and look at the effects that social media has on relationships between people and brands. Our program has been built around many of these characteristics, but at the heart of it is strategic planning and relationship building."
Courses in the program include Social Media & Public Relations, Social Media Content Development, Social Media Measurement & Analytics, Risk & Crisis Management for Social Media and Social Media Planning & Management.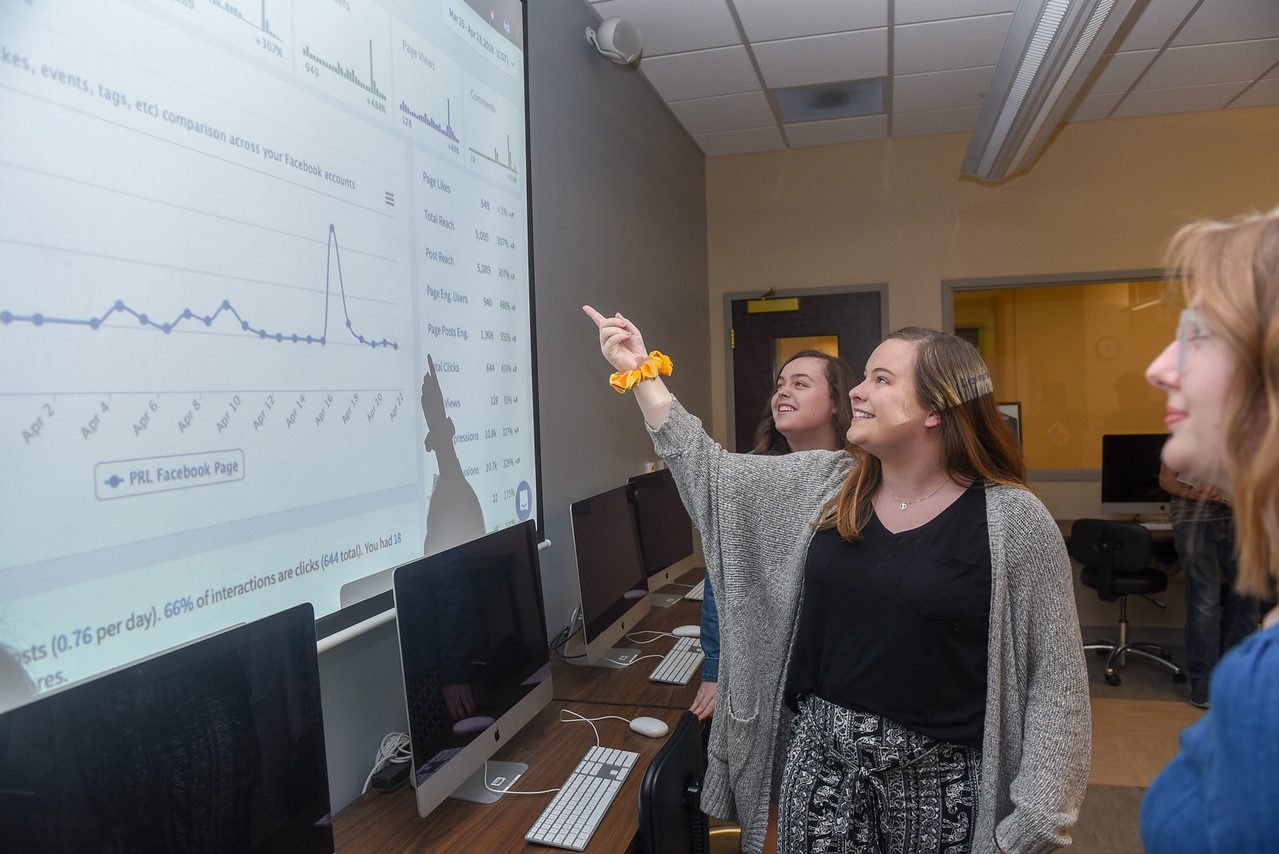 With a focus going beyond technical media training, Belmont is taking an interdisciplinary approach so students will see and understand the broader scope of social media as a strategic communication force. Graduates of the program will be able to work with the media technicians that create the websites, podcasts or videos to develop content that will have the greatest impact for achieving strategic purposes. Therefore, social media management pairs nicely with many other academic programs at Belmont – including marketing, business, motion pictures, music business, political science and more – for a minor or second major.
Students studying social media management at Belmont will be equipped to become digital content creators and strategists who can manage social media to achieve strategic communication goals for their organization or clients. With the rise of social media in the professional world, the opportunity to launch a career in social media is present in every industry imaginable—from corporate to nonprofit or entertainment to government.