Strings for Hope (S4H), an organization created by White Bluff resident Laura Wilson in 2011, collects discarded guitar strings to create unique jewelry through the artful work of women at Nashville's Next Door, a housing and rehabilitation facility for women in transition. Funds raised through jewelry sales are donated to local food distribution centers to alleviate hunger in the greater Nashville area.
Wilson was struck with the idea behind S4H when her daughter returned from a friend's house, saying the family was eating only two meals a day due to lack of financial resources. Paired with Wilson's realization that her husband, a guitar player, was frequently discarding broken strings, the idea to create something that could sustain the need for food in her community was born.
In an effort to improve S4H, Wilson sought out Belmont Enactus, an organization centered around equipping social entrepreneurial ventures with environmentally sustainable business models to ignite economic and social change. S4H was a natural fit for Enactus, as Project Manager Graham Spencer-Orrell said Enactus is intentional in vetting organizations before creating a partnership. "The key things we look for are passion, possibility and the potential for sustainability," he said. "S4H exceeded our standards in all of these areas… and is a great example of a triple bottom line of people, planet and profit."
Spencer-Orrell has been working with the organization as project manager since Fall 2014 and with a team of 10 other students, S4H has seen great success including growth in popularity and the recent receipt of a $10,000 grant.
Given by Tom's of Maine, a natural products company focused on oral and personal care, "50 States of Good Community Giving Program" selects one organization from each state to receive funds and for Tennessee, S4H was selected. Spencer-Orrell said although the award comes with a great monetary value, the value to the organization doesn't stop there.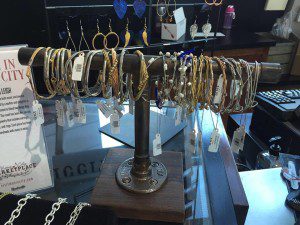 "The award gives us a certain credibility to be recognized by such a large organization. It is allowing S4H to strengthen our infrastructure and dedicate resources to sustainability. Ultimately, it has allowed us to speed up our plans and… help even more people," he said.
The money also allowed S4H to hire an additional staff person that will manage the organization's retail cart, allowing sales on the streets of downtown Nashville. Looking forward, Spencer-Orrell and his team have big goals for S4H including being self-sufficient and no longer needing the Enactus partnership. Ultimately, success would mean repurposed guitar jewelry for all Music City residents, fans, musicians and visitors.
"We consider success to be having everyone that picks up a stringed instrument in Nashville to have their own S4H bracelet line."