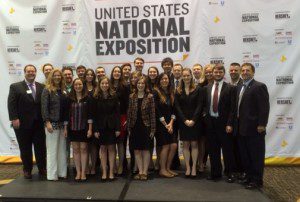 Competing against teams from colleges and universities across the country, Belmont's Enactus team made a statement last night, coming in fourth at a national competition. With 533 teams consisting of more than 16,800 students in the United States, Enactus USA held its National Exposition and competition this week in St. Louis, Missouri, where the Belmont team stood toe-to-toe and came our victorious against much larger institutions, including the University of Oklahoma, University of Florida Gainesville and last year's national champion, Texas State University.
Dr. John Gonas, associate professor of finance and Sam M. Walton Enactus Fellow, said, "I couldn't be more proud of the Belmont Enactus students. They are consistently recognized and honored for their tireless commitment to serving our community by creating complex business models tied to social change. Working alongside incredibly committed faculty members Cate Loes, Jason Stahl and Nathan Adam, our students are examples to Enactus teams in the U.S. and world of how to conceive, develop and sustain social enterprises that are truly changing lives in our immediate and global community."
Enactus is an international non-profit organization that brings together student, academic and business leaders who are committed to using the power of entrepreneurial action to improve the quality of life and standard of living for people in need. Guided by academic advisors and business experts, the student leaders of Enactus create and implement community empowerment projects around the globe. After three days of intense presentations, Belmont Enactus made it to the final four of the national competition, ultimately placing fourth behind John Brown University, La Sierra University and national champion Brigham Young University-Hawaii.
Maggie Fincher, an entrepreneurship major from Lawrenceburg, Tennessee who also serves as Belmont Enactus Vice President, summed the group's mission up well during the team's presentation Thursday: "Through entrepreneurial action we're empowering our community while keeping our focus on our passion for serving people."
National Enactus competitions are held in 36 countries around the world to showcase how the organization's students are transforming lives and enabling progress through entrepreneurial action. The quality and impact of projects is evaluated at these competitions with expert business leaders serving as judges. From each national competition one team is selected to represent their country at the Enactus World Cup, this year in Johannesburg, South Africa in October. Belmont's Enactus team previously won the national championship in 2010 and 2012, and claimed the international title at the 2012 Enactus World Cup.
The 2014-15 Belmont Enactus team consists of 64 members representing a diverse array of majors, including social entrepreneurship, finance, art history, nursing, Christian leadership and international business. In addition to Fincher, the Enactus members who presented at this year's competition were Zoe Dollman (Ellilta Women at Risk Project Manager), Paul Macedonia (Rocketown Project Manager), Audrey Aavik (Guatemala Greetings and Our Lady of Mercy Project Manager), Brett Wisse (ComptonPost Project Manager) and Graham Spencer-Orrell (Strings for Hope Project Manager). The team currently has a dozen projects in various stages of development, but focused on three during the oral presentation to business leaders:
The team worked with its long-term partner 147 Million Orphans to create a bike across America campaign, "Riding with a Reason," to raise funds to build a school in Mt. Olivos, Honduras for 27 refugee families. After months of planning and more than 3,400 miles on a bicycle, the team raised more than $60,000, enough to build and fully furnish the school. What's more, the project exceeded its original goal, allowing Belmont Enactus to also build a playground, fund teacher salaries for the next three years and purchase uniforms for the school's students.
Ellilta Women at Risk (EWAR) is an Ethiopian organization that melds job training with a social enterprise, selling scarves, handmade greeting cards and body care products. For the past 20 years EWAR has reached out to urban women in prostitution and provided rehabilitation and education programs as well as job opportunities. Upon a visit earlier this year, Belmont Enactus discovered issues with both the business management and marketing of the organization. The team implemented stronger accounting practices and inventory systems as well as licensing and nondisclosure agreements to protect the women from undesirable exposure.
Strings for Hope, a new non-profit organization that takes discarded strings from instruments and repurposes them into jewelry; funds from the jewelry is then used to support other nonprofits in the areas of food, health and education. This year Belmont Enactus and Strings for Hope worked to increase the product's distribution network, improve online and e-commerce presence and develop a new line of bracelets and new marketing materials. The work resulted in a 50 percent increase in both web traffic and sales, with $12,000 donated to five different food relief, medical and educational organizations. Aavik noted in the presentation, "For Belmont Enactus, Nashville is not only where we live, but serving those in need in our area is also our passion… our home. Through the Strings for Hope project we've turned the strings we discard in Music City into sustainable careers, training, and relief – a truly note-worthy cause."