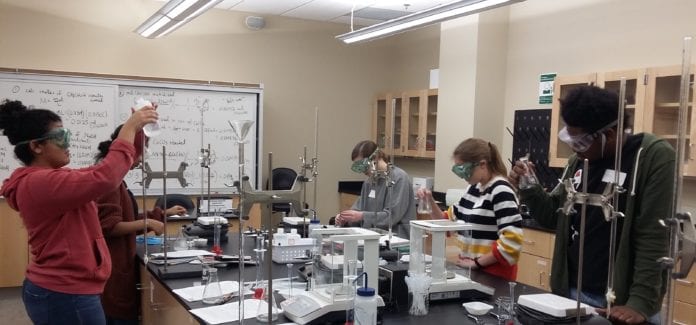 Belmont's Department of Chemistry and Physics increased outreach efforts as the fall 2019 semester drew to a close.
Throughout November and December, students hosted "Back Titrations: Neutralizing Agents – How Basic is It?" – a half-day guided inquiry workshop for chemistry high school students.
This semester, event organizer and leader Dr. Danielle Garrett, assistant professor of chemistry education, hosted three workshops for more than forty students from three different schools – Christ Presbyterian Academy (AP Chemistry class), Davidson Academy (AP Biology class) and Stewarts Creek High School (AP Chemistry class).
Garrett led an interactive discussion covering topics including acid-base chemistry, neutralization reactions, limiting reactants and back titrations. Each student was tasked with completing a series of back titrations to determine the effectiveness of commercial products used to reduce stomach acid, such as baking soda, antacid-reducing tablets and milk of magnesia. Students then worked in small groups to create persuasive presentation slides to market the most effective neutralizing agent.
Garrett also visited Ellen Deathridge's 4th grade class at Donelson Christian Academy as part of her continuing work with the American Chemical Society (ACS) Science Coaches program, where students engaged in a hands-on activity to determine the acidity of household acids and bases using a natural anthocyanin indicator – red cabbage. Garrett has worked with Deathridge through the ACS Science Coaches program for the past six years.  Their work was recently highlighted in the Main Street Nashville weekly community newspaper and in the Science Coaches Spotlight on the American Association of Chemistry Teachers (AACT) website.