In a special ribbon cutting ceremony held earlier today, Belmont University dedicated The Fisher Center for the Performing Arts, a new $180 million multifunctional facility designed with a vision to be the best performance venue on any college campus in the world. Fashioned after traditional European opera houses, the new hall adds another diamond to Music City's ring of world-class venues as it caters to diverse audiences with major concerts, plays, operas, dance, musical theatre and other performances while also supplying Belmont's nationally renowned arts students with a unique learning and performing environment.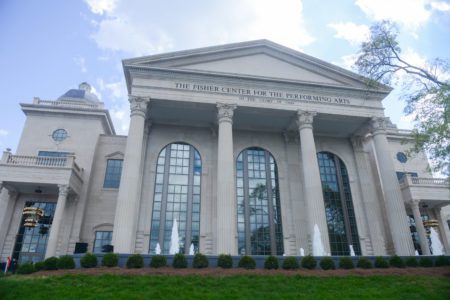 Belmont President Dr. Greg Jones said, "The beauty and performance capabilities of The Fisher Center for the Performing Arts are simply unmatched, and its possibilities are unparalleled. From inspiring audiences with globally-minded performances to celebrating our students' talents onstage and behind the scenes to serving Middle Tennessee through partnerships and programs, the Fisher Center offers unlimited potential. This venue will equip students with the confidence and real-world experiences that set them apart as Belmont graduates while also attracting world-renowned artists to share their immense talents with our campus and the local community. With Belmont's rich tradition of creativity and imagination across our campus, the Fisher Center will be a place for those values to come to life through curating, producing and presenting stories and art that inspire."
Fisher and Dickens Families Honored
Today's ceremony also marked the unveiling of the name of the new facility and the plaza in front of the building to celebrate two families who worked together to lead Belmont University for more than 20 years and who inspired the facility's vision, design and construction. The Fisher Center is named in honor of recently retired Belmont President Dr. Bob Fisher and his wife Judy, who have been long-time advocates for the arts both on Belmont's campus and in Nashville. Also unveiled in front of the Center were sculptures of the Fishers along with a plaque commemorating all they have contributed to Belmont University. In addition, the area in front of the building will be called Dickens Plaza to honor the contributions of former Board of Trustees Chairman Marty Dickens and his wife Betty.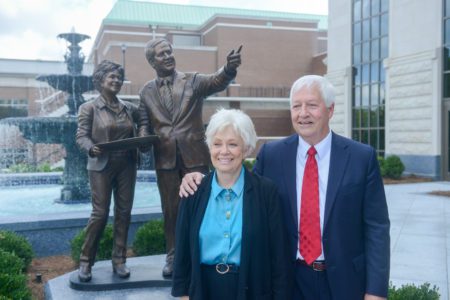 Milton Johnson, retired chairman and CEO of HCA Healthcare and current chairman of Belmont's Board of Trustees, noted, "Together, Marty and Bob dared to dream of building a performing arts center that would be the finest to be found on any college campus in the world. Their vision, inspiration and commitment truly represent the foundation of this venue. Placing their names on this site further cements their legacies while reminding each and every patron of their impact on Belmont University."
A special, invitation-only concert featuring internationally acclaimed violinists and composers, the Mark O'Connor Duo with Maggie O'Connor, will be held this evening to celebrate the Fisher Center's dedication and pay tribute to the Fisher and Dickens' families. The Fisher Center will also host the Dec. 1 performance of the annual "Christmas at Belmont" concert, which features more than 800 student musicians and vocalists and will be filmed for national broadcast on PBS.
Fisher Center to Partner with Local Arts Organizations
Partnerships with local arts organizations will be an integral aspect of the facility's identity, as Belmont seeks for the Fisher Center to be shared with Nashville and the surrounding region as a center for artistic storytelling, inspiration and celebration. The May 2022 Nashville Opera collaboration on Richard Wagner's epic "Das Rheingold" is anticipated to draw talent and audiences from around the country, while a June 2022 Nashville Ballet residency will bring three spectacular debut performances to the venue. Conversations are underway for the Nashville Symphony to perform in the space in 2022 as well.
Located between Belmont's Massey Performing Arts Center, Curb Event Center, Troutt Theater and McAfee Concert Hall, the Fisher Center completes a performing arts district along Belmont Boulevard. Moreover, the horseshoe-shaped hall promises ultimate adaptability with design features that make it a perfect fit for a wide variety of functions, from both acoustic and amplified music concerts to theater and dance performances and broadcast events. The entire facility has been acoustically designed to provide an optimal listening experience to all audiences.
Facility Demonstrates Extraordinary Attention to Detail
While every performance in the new space will be a considerable draw, the building itself will prove its own attraction as acute attention to detail makes this project particularly inspiring. Throughout the Fisher Center, visitors will find elaborate details and special touches that further enhance the beauty within and symbolize uniquely Belmont traits. A few highlights of the new performing arts center include: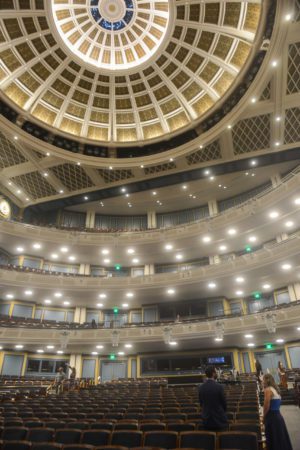 Column capitals that feature icons specific to Belmont's campus, including roses, fountains, trees and bees in honor of Bob Fisher's long-held hives on the roof of the Ayers Academic Center
Variable acoustic system within the hall includes curtains placed in wall pockets that can be deployed to manage audio needs, or literally tune the room, for different events
Three-story Grand Lobby designed to host banquets, galas and special events for up to 900 guests
Side ballroom spaces that can be individually cordoned off for separate acoustic or amplified smaller performances, or—since both areas feature floor space as large as the main stage—each can also be used as viable rehearsal spaces
Flexible stage, lifts, rigging and lighting in the main hall provide maximum adaptability
Top of the line theatrical equipment that gives superior visual and acoustical experiences
Innovative orchestra pit accompanied by two lifts allow the pit to be extended above, below or flush to the stage depending upon the production
Ten-foot-wide medallion with fiber optic night-sky lighting details add a striking element to the performance hall dome
An acoustically transparent domed ceiling, constructed of ornate plaster and metal grillwork, allows sound to travel up into the attic volume before being diffused, or absorbed, depending upon the nature of the event
The Fisher Center for the Performing Arts was designed by local architectural firm ESa, which is celebrating its 60th anniversary this year, and ChaseCo, LLC served as overall project manager. Other project partners included:
R.C. Mathews – General Contractor
Akustiks, LLC – Acoustical Consultant
Theatre Projects Consultants, Inc. – Theatre Consultant
Lee Company – HVAC/Plumbing Contractor
Enterprise Solutions, LLC – Electrical Contractor
Inman Foodservices Group, LLC – Food Service Consultant
Curtain Wall Design & Consulting, Inc. – Exterior Envelope Consultant
Fire Protection Associates, Inc. – Fire Protection Consultant
Jensen Hughes, Inc. – Code Consultant
Kenneth B. Bonifay, DBA – ADA Consultant
Randy Burkett Lighting Design, Inc. – Lighting Designer
I.C. Thomasson Associates – MEP Engineers
Ross Bryan Associates – Structural Engineer
Hodgson Douglas, LLC – Landscape Architecture
Catalyst Design Group – Civil Engineers
SSRCx – LEED Consultants and Commissioning Agent
Kelly Construction – Masonry Contractor
Continuing Belmont's efforts toward sustainability, The Fisher Center for the Performing Arts is pursuing LEED Gold certification, which would make it the fifth LEED-certified building on Belmont's campus.