Belmont's Office of Leadership Development (BOLD), in partnership with Belmont Athletics, recently held "Leadership Lately" sessions from the women's and men's basketball coaches, Bart Brooks and Casey Alexander. Each semester BOLD hosts "Leadership Lately," an interactive overview of socially responsible leadership, for graduate and undergraduate participants to learn how various BOLD leadership competencies are used by successful leaders in Nashville.
Alexander shared the example of Steph Curry being lightly recruited but still able to become the "greatest shooter in NBA history" through his desire to improve. He also examined his insight on positive influence. "The most influential people in your life are the five that you have the most contact with. So surround yourself with the right people."
During Brooks' session, he shared how a leader needs to instill a mindset of "growth and change." He further discussed that a leader needs to "take care of the team but focus on strengths." He told a story of hiring staff to focus on the data and finances so he could focus on his strength of coaching.
When asked what the biggest take away was from the Leadership Lately experience, one student said, "Listening to Coach Alexander reminded me that you have to lead yourself before you can lead others. He knows who he is." Another student added, "It was cool listening to Coach Brooks be open about how he wanted to hire people to do the jobs he wasn't good at. Sometimes I forget that being a leader isn't about doing everything."
Students most appreciated listening to the presenters and their different backgrounds as well as being able to learn how to apply the leadership lessons the coaches shared in their own lives.
Graduate Assistant Logan Monday said, "Leadership Lately provides speakers that have demonstrated leadership in their profession and shares insights for students to apply in their own life."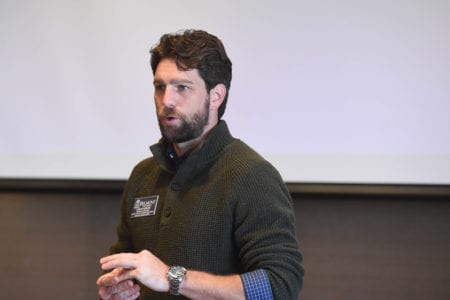 Leadership Lately is a program in the Believing Emergent Leader Level of Engagement in BOLD. The next sessions will be Fall 2020.
Upcoming events include BOLD's Tower Talk on Monday, February 24 and the Campus Wide Student Leadership Awards on Wednesday, April 15.
Click here to learn more details about the upcoming Tower Talks Event. More details will be published later about the Campus Wide Student Leadership Awards as the date comes closer.