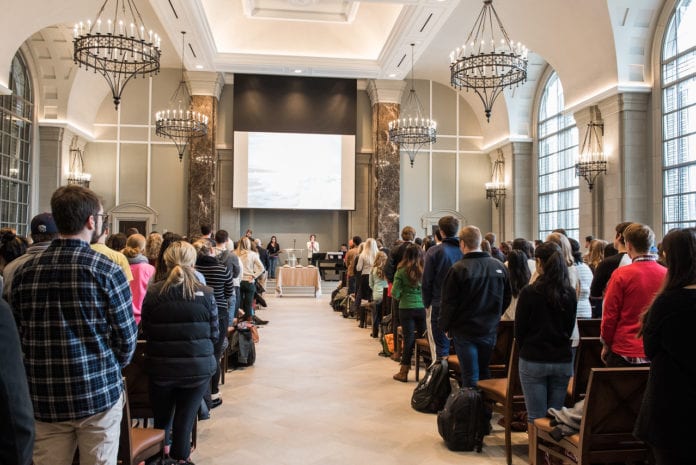 Belmont University was recently awarded a $1 million, five-year grant from Lilly Endowment Inc. The grant is designed help Belmont support local churches in their efforts to thrive in the midst of community, denominational and cultural shifts.
Beginning this month, a Belmont team will utilize consultants, retreats, workshops, research assistants and other tools to help congregations define and implement "thriving strategies," with a goal of working with 18-20 churches representing various denominations located in the urban core of Nashville. The work will include the development of missional identity and focus, leadership structure and development, community needs assessments and congregational demographic research.
Belmont University President Dr. Bob Fisher said, "This grant provides a significant opportunity for Belmont to bring its resources in the form of faculty, staff, organizational and business expertise to bear on what is, in our eyes, the most important organization that there is – God's church."
Earlier this spring, Belmont received a $50,000 planning grant from Lilly Endowment for gathering research data, which ultimately became a vital component of the larger grant application. Dr. Darrell Gwaltney, dean of the College of Theology and Christian Ministry, and Dr. Jon Roebuck, executive director of the Rev. Charlie Curb Center for Faith Leadership, began the work of defining Belmont's grant proposal.
Along with Roebuck and Gwaltney, Dr. Bill Wilson and Dr. Matt Cook, director and assistant director of the Center for Healthy Churches, composed a study team to closely look at 14 churches in six different cities across the country that have experienced success at flourishing as community-based congregations.
Wanting to discover key characteristics that could benefit local churches in urban core of Nashville, the team studied the churches' leadership qualities, catalytic moments and community demographic changes. Concurrent to the work of the study team, a number of Nashville area churches were contacted about possible involvement in the potential project. The final grant application was submitted to Lilly Endowment at the end of August.
Roebuck said, "Much of our work is devoted to strengthening and equipping faith leaders who serve local congregations. This grant will allow us to have a lasting impact in the life of many congregations and will strengthen the Rev. Charlie Curb Center for Faith Leadership as an important resource for leadership development."
Gwaltney explained that the initiative creates opportunities to help churches focus on their strengths, deepen their relationships with God and repurpose their ministries for the flourishing of their communities and the world. "Our work will make it possible for churches of varying sizes from different denominational and theological backgrounds to learn from each other," he said. "We are excited to learn how this will unfold in each church."