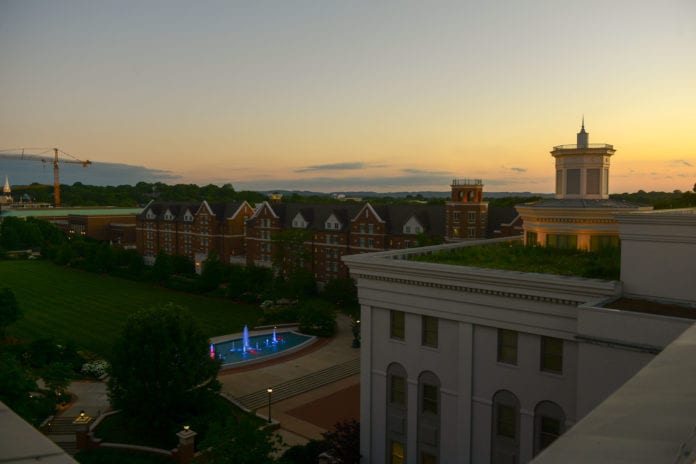 In an email to students, families, faculty and staff earlier today, Belmont President Dr. Bob Fisher offered new details on the University's plans for the Fall 2020 "Return to Campus" and linked to the University's new Return to Campus website: http://belmont.edu/return/.
Fisher's email read, "Those of you who have been anxiously awaiting answers or seeking assurances about our approach to fall will hopefully find some of both within. We think of this plan as an ongoing, adjustable playbook – one that will map out a course for us to regain as much normalcy as possible while also doing our part to limit the spread and impact of COVID-19. While the plan covers many details, there are more still to be determined; be expecting frequent updates and additions as important topics are assessed and more decisions are made. Our commitment is to keep you updated regularly so you have as much information as possible prior to returning in August."
Fisher said he wanted to affirm several things as the Belmont community reviews this plan:
We are taking your safety and the safety of our students very seriously. This remains the top priority in all planning efforts and decision-making.
We all must take the necessary steps to deliver an educational experience that meets what our students have come to expect at Belmont. This includes learning new technologies, creating flexible course models and taking advantage of professional development resources.
We must remain committed to building and maintaining connection with our students through innovative practices. Our mission is to foster not only their intellectual growth but also their social, personal and spiritual growth – regardless of any limitations on in-person interactions we may face moving forward.
While it is our goal to complete the term under our adjusted academic calendar, we will follow all federal, state and local health guidance related to the pandemic and assess or adjust our plans as necessary.
It will be critical for everyone to abide by the health and safety protocols described in the plan. This includes wearing masks, washing hands regularly, staying home when sick and following illness reporting and isolation protocols. Following these important rules will offer the University its best chance to complete the fall term.