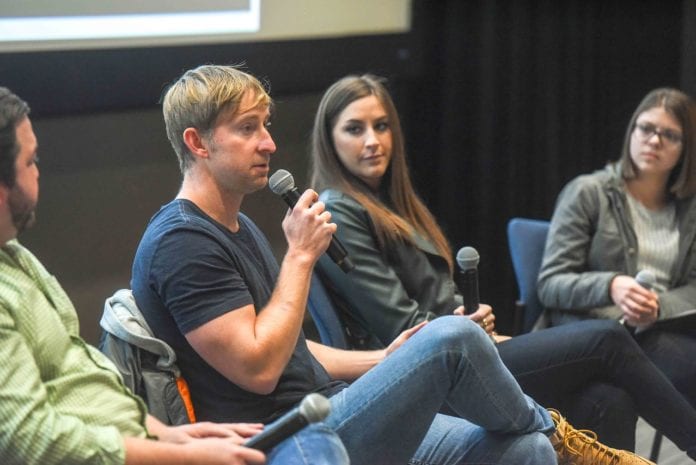 Belmont music business alumnus Ashley Gorley recently made history as he earned his 50th No. 1 song at country radio with LOCASH'S "One Big Country Song," which was No. 1 last week on Mediabase. Signed to Round Hill Music Publishing, the 1999 Belmont graduate is the only songwriter in any genre to earn 50 No. 1 singles in the history of the Mediabase and Billboard Airplay charts.
Gorley told MusicRow Magazine that he loves what he does. "I love writing songs—the challenge, the process and the way that each day brings something different," he said. "50 No. 1s is an achievement I'm proud of and grateful for, but I'm even more grateful for the friendships these 50 No. 1s have granted me; friendships with the artists that have given these songs life and success, my co-writers who motivate me to dig deeper each day, and mentors and early believers who continue to cheer me on. I stay inspired by my Tape Room family who I try to provide with those same beliefs, friendships and mentorships. Thank you to everyone who made this possible, especially the radio teams who work tirelessly for these songs to be heard."
Dean of the Mike Curb College of Entertainment and Music Business Doug Howard said being the only songwriter to achieve 50 number one singles in the history of the Billboard and Mediabase airplay charts is one of the most, if not the most, significant milestones the songwriting community has witnessed. "This achievement speaks to Ashley's amazing work ethic and his love and passion for creating music," he said. "And as important as the awards and accolades, Ashley is always the first to express his appreciation, admiration and respect for the artists that record his songs and the many co-writers and mentors that have supported him on his magnificent musical journey."
Gorley launched publishing company Tape Room Music in 2011 which now has a roster of 11 writers. Tape Room Music has earned 21 No. 1 hits at country radio, along with cuts by pop artists including Justin Timberlake, Meek Mill and Charlie Puth. He has brought his Tape Room team to Belmont's campus to speak to current students, in addition to the countless other ways he has given back to the Belmont community over the years.
According to MusicRow Magazine, Gorley is the only songwriter to have been named ASCAP Country Music Songwriter of the Year seven times. He has also been named Billboard Country Songwriter of the Year four times, NSAI Songwriter of the Year three times, has earned eight ACM Songwriter of the Year nominations and has earned three CMA Awards and two Grammy nominations to date. Gorley is the reigning ASCAP Songwriter of the Year, and he has earned 15 CMA Triple Play honors, including two "Triple-Triples" for notching nine No. 1 songs in 2018 and in 2019.
He has had more than 300 songs recorded by artists including Luke Bryan, Keith Urban, Blake Shelton, Kenny Chesney, Dan + Shay, Carrie Underwood, Thomas Rhett, Jason Aldean, Florida Georgia Line, Sam Hunt, Old Dominion, Kelsea Ballerini, Brad Paisley, Brett Eldredge, Chris Young, Darius Rucker, Jason Derulo and Bon Jovi.
See a full list of Gorley's 50 No. 1 hits below (chronological order):
"Don't Forget To Remember Me" — Carrie Underwood
"All-American Girl" — Carrie Underwood
"You're Gonna Miss This" — Trace Adkins
"Start A Band" — Brad Paisley
"It Won't Be Like This For Long" — Darius Rucker
"Then" — Brad Paisley
"American Saturday Night" — Brad Paisley
"Good Girl" — Carrie Underwood
"Crash My Party" — Luke Bryan
"Runnin' Outta Moonlight" — Randy Houser
"Don't Ya" — Brett Eldredge
"Hey Girl" — Billy Currington
"That's My Kinda Of Night' — Luke Bryan
"Play It Again" — Luke Bryan
"Rewind" — Rascal Flatts
"Yeah" — Joe Nichols
"I See You" — Luke Bryan
"Just Gettin' Started" — Jason Aldean
"Don't It" — Billy Currington
"Tonight Looks Good On You" — Jason Aldean
"Kick The Dust Up" — Luke Bryan
"Young & Crazy" — Frankie Ballard
"Nothin' Like You" — Dan + Shay
"Heartbeat" — Carrie Underwood
"You Should Be Here" — Cole Swindell
"T-Shirt" — Thomas Rhett
"American Country Love Song" — Jake Owen
"Middle of a Memory" — Cole Swindell
"Dirty Laundry" — Carrie Underwood
"A Guy With a Girl" — Blake Shelton
"Dirt On My Boots" — Jon Pardi
"Today" — Brad Paisley
"Black" — Dierks Bentley
"Do I Make You Wanna" — Billy Currington
"Unforgettable" — Thomas Rhett
"Fix a Drink" — Chris Janson
"Marry Me" — Thomas Rhett
"Life Changes" — Thomas Rhett
"What Makes You Country" — Luke Bryan
"Eyes On You" — Chase Rice
"Love Ain't" — Eli Young Band
"Rumor" — Lee Brice
"Living" — Dierks Bentley
"I Don't Know About You" — Chris Lane
"Good Vibes" — Chris Janson
"Remember You Young" — Thomas Rhett
"Ridin' Roads" — Dustin Lynch
"Catch" — Brett Young
"Hard To Forget" — Sam Hunt
"One Big Country Song" — LOCASH