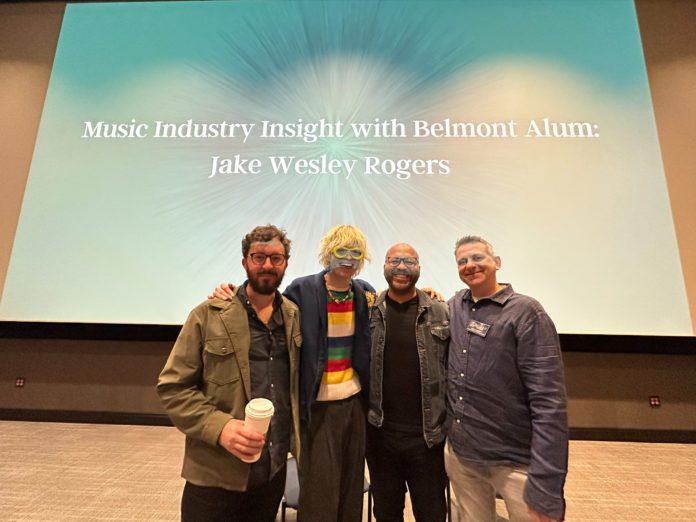 Fresh off performing on tour as the opening act for Panic! at the Disco and preparing to headline his own tour this spring, Belmont alumnus Jake Wesley Rogers ('18) returned to campus on Feb. 22 to talk with current students about his take on storytelling through art and music and share other insights on navigating the music industry.
Telling stories, both singular and universal, can be a tricky line to walk – even for the most esteemed of artists. The major takeaway from the fully attended Q&A event in the Johnson Large Theater was that Rogers advocates for authenticity "above all else."
For Rogers, whose bold music is queer storytelling refracted through a universal lens, it is easier for others to connect the more niche and specific the story is. "I feel hollow when I try to make something relatable to everyone," he said. "Be authentic to your feelings, your experience, your story."
Rogers told the students about his journey from student to signed recording artist, a move he credits to creating authentic art and finding a manager that believed in him. He advised the students who are artists and creators to find those people who believe in them and to play live as much as possible because they'll never know who might be there.
"We were a little clueless, but we fought for it and believed in it so hard. The best things that happened to me were because I allowed myself to be who I was, to be different. People respond to that," he said.
"There is a level of mystery to how it will all come together – it could happen when you're opening for someone else at The Basement like it did for me. But every good thing that has happened was because of a live performance where I embraced my uniqueness."
Rogers said going to Belmont helped him navigate the industry by helping him connect with the right people – forming his band and finding a manager. He also enjoyed the chance to learn alongside learning the music industry, and to do so with others on a similar journey.
"My last day of class at Belmont, we all went around and said what we had learned during our time here. One girl admitted that she had a hard time for the first couple years and was so scared and didn't even pick up her guitar. Everyone else then admitted they also had a hard time while being intimidated at first," Rogers said. "Please, don't wait until the last day of Belmont to talk about how weird and hard it is to be an artist. Just be open and vulnerable with it, and we can support each other in that."
These days, Rogers just tries to focus on making good work. He talked about a Patti Smith quote that says if you do that—if you do good work—and keep your name clean, your name becomes its own currency. "And I believe that. Consistency matters. I stay zoomed in on doing good work and putting trust in letting it lead me to the next thing."
View details about Rogers' tour on his website. View more photos from event in this gallery.