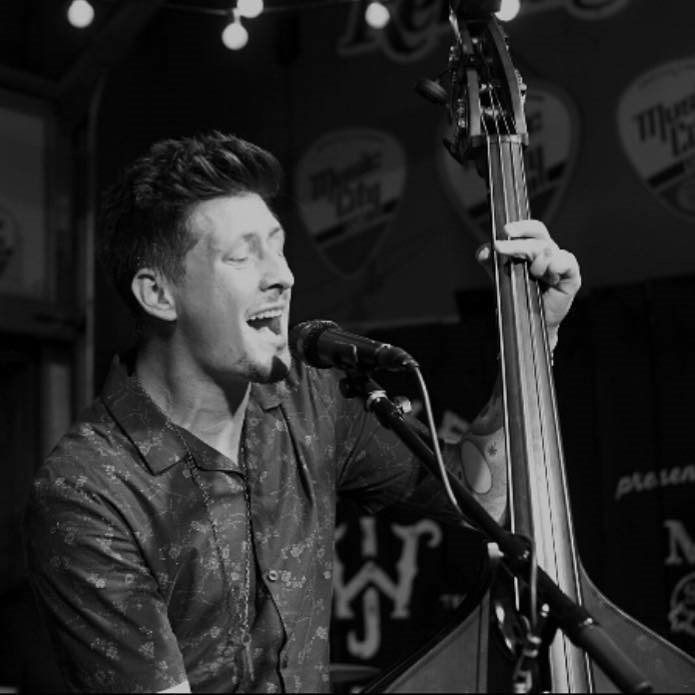 The inaugural Todd Givens Memorial Scholarship was awarded to promising new songwriter-artist and Belmont alumnus Chris Housman recently by the Nashville Songwriters Association International (NSAI).
Housman, a 2012 music business graduate who is originally from Hanston, Kansas (population 200), taught himself to play the fiddle at age seven. Singing followed, which led to the formation of a traveling family bluegrass/gospel band, opening for major country acts, receiving national recognition for singing classical solos, and fronting a punk rock band. Since attending Belmont University, Housman is now actively songwriting and performing (upright bass and vocals) country-wide touring colleges.
"Chris is already making a name for himself in the industry," said NSAI Membership Representative, Erin Kidd. "With instinctive writing intuition and a voice that can melt hearts, he's one of our most signable artist/writers. From our first meeting, his talent, passion and likability has been obvious and undeniable."
Todd Givens was the head of NSAI's tech department and unexpectedly passed away on February 27, 2018.  Givens was involved with the Screamin' Cheetah Wheelies, and the Eric Hamilton Band for many years.  Band members and front men Mike Farris of the Wheelies and Eric Hamilton have agreed to help mentor Housman and future scholarship recipients.
"Todd would be proud of this choice," said NSAI Executive Director Bart Herbison. "Housman has that 'it' thing and an ability when performing to draw you into his world. NSAI will fund his membership, costs for all of our events and give him staff-wide attention over the next two years with the idea of helping him secure a publishing and record deal."