When the popular Broadway musical "Hamilton" began gaining popularity, alumnus Chris Lee was a contrarian who did not want to take part in the hype. That is until one fall break road trip when his friend played the soundtrack on repeat during the long drive, and Lee said it "changed his life." Little did he know, "Hamilton" literally would change his life just a few short months later when he accepted the role as Marquis de Lafayette & Thomas Jefferson in the first national tour cast in Chicago.
Lee, a musical theater major who started at Belmont in 2013, stopped by Belmont on August 24 to talk with current students from the College of Music and Performing Arts in the Troutt Theater. He discussed his time at Belmont, the road to "Hamilton" and his career since the show, which includes roles in "S.W.A.T.", "Empire" and "Legacies."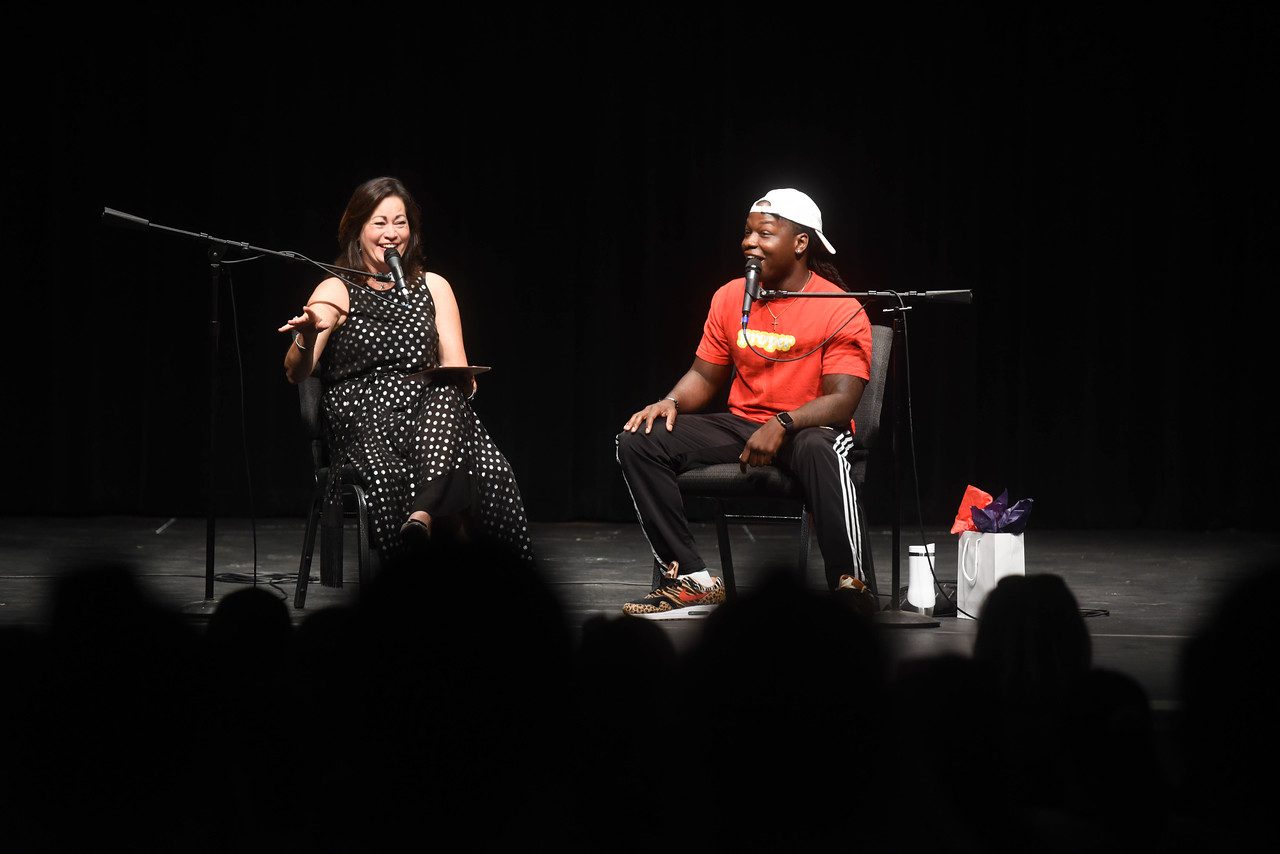 Musical Theatre Coordinator Nancy Allen sat down for the interview and introduced Lee to the full audience as "someone special and very humble who has high standards, incredible work ethic and a grateful attitude." Allen said, "He is a man of faith and lives out his faith, which is one of the most admirable things to see these days. Chris, it's an honor to have you representing Belmont out in the world."
Lee answered many questions from Allen and students in the audience. He also gave advice to the aspiring entertainers and recounted the road to "Hamilton," including the hilarious story of the day he received the offer for his role.
The room filled with laughter as Lee reenacted the phone call he received as he was buying cocoa butter at his hometown Walmart. He acted out putting the woman on hold and proceeded to gleefully dance around the stage, scream and shout and eventually fall onto the floor in disbelief.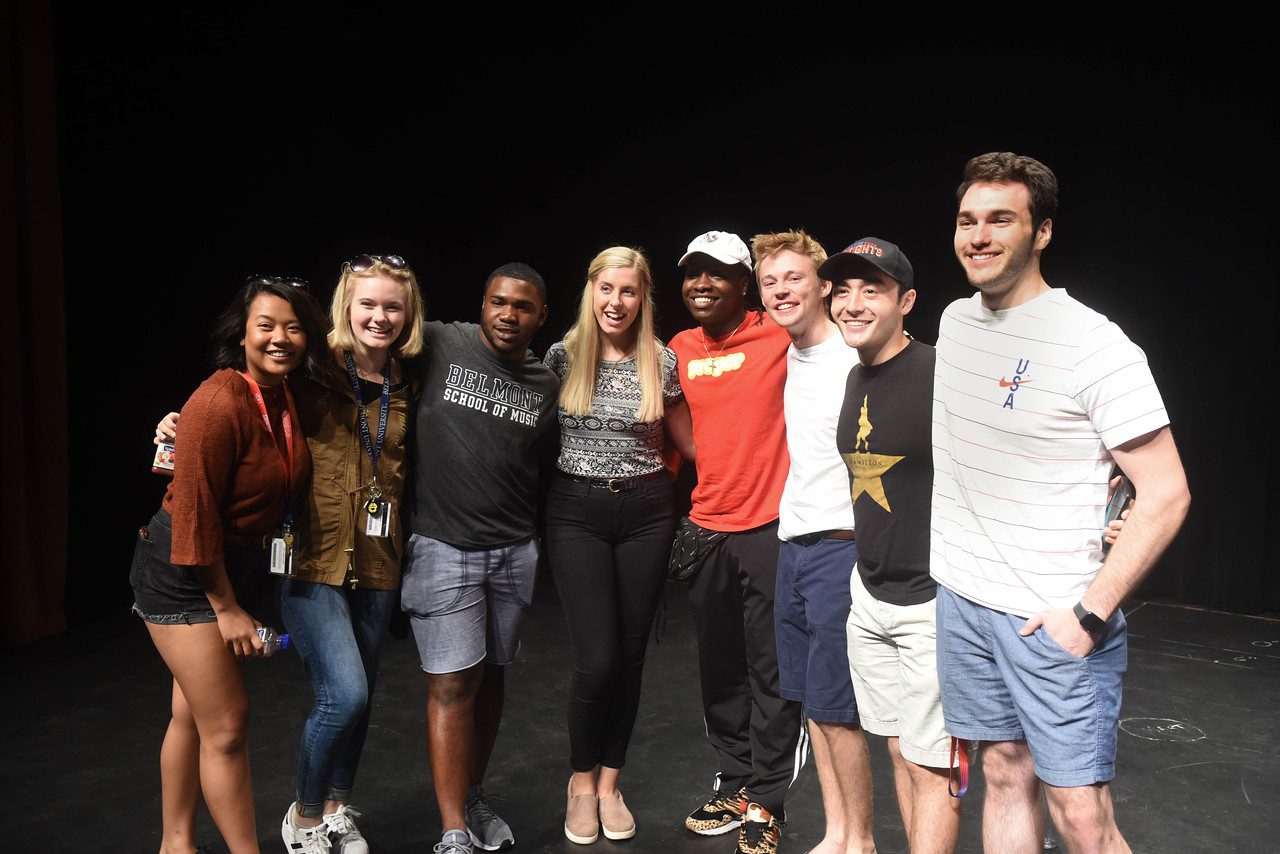 "Other than 'YES' and 'THANK YOU,' I had nothing to say that would capture how I was truly feeling," he explained. "I had a dream, and it was coming true. It happens. It really can happen. That was the greatest day of my life."
Lee's main advice to the students was that success happens when preparation meets opportunity, so they should always be preparing themselves. Every day, Lee had practiced the "Hamilton" soundtrack beginning-to-end and imagined exactly what he would do if he ever had the chance to audition in person. One lucky Tuesday in New York City, Lee's extensive preparation met the perfect opportunity.
When he arrived for his "Hamilton" audition, he was not dressed in the show's colonial garb like everyone else – he was dressed like Chris Lee. But, he was comfortable, and the casting crew (which included Lin Manuel Miranda) was able to see who he was as an artist. They asked him to read for several roles, but when he read for Jefferson, things just clicked.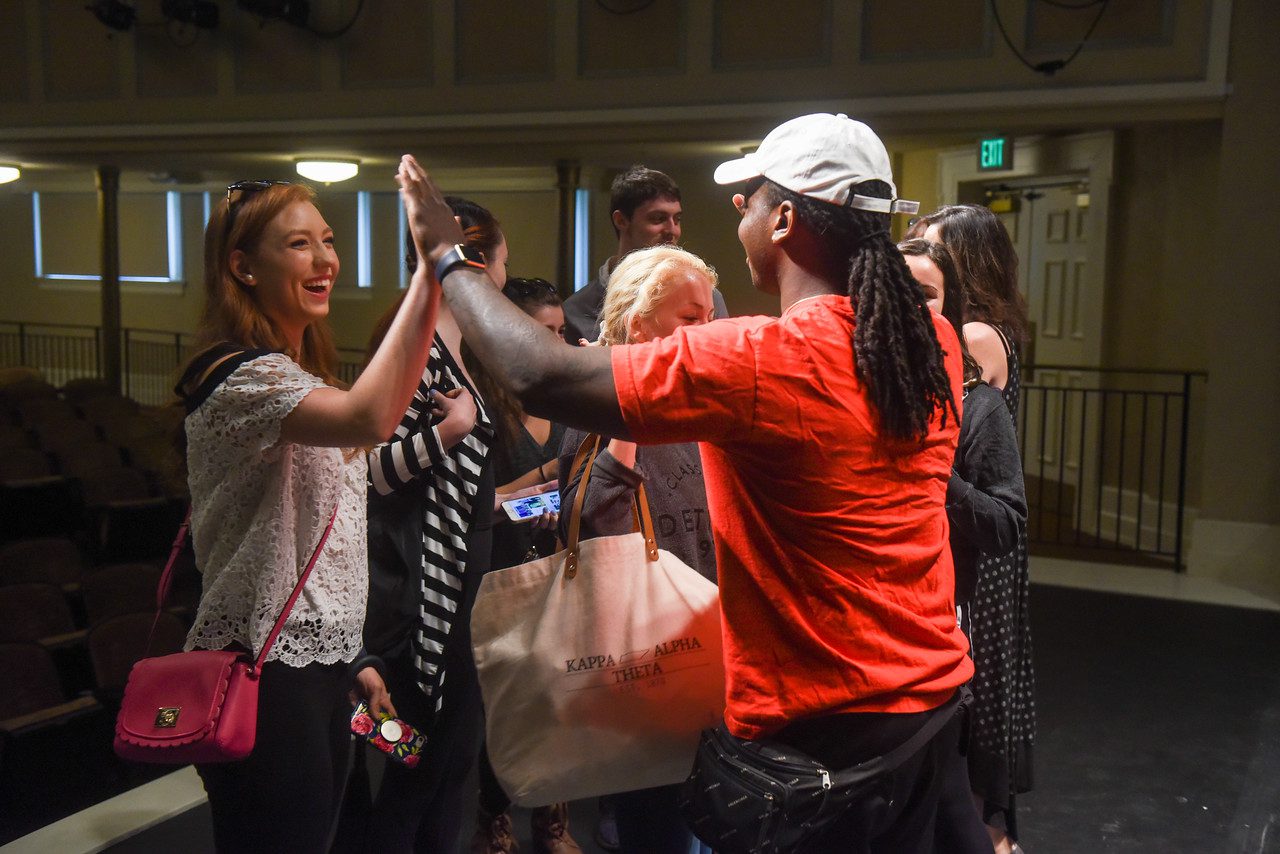 "I learned at Belmont that auditioning is 60-75 percent of the job. Getting a job is not contingent on how good you are; you just might not be right for that part," he said. "Don't be afraid to be fearless in being you. Show who you are."
The directors gave him a ticket to see the show with the original cast that night. He received a couple of callbacks and was offered the role in May 2016.
On his time at Belmont, Lee said he tried his best to be open to everything by learning, listening and trying things out of his comfort zone. When he became frustrated at singing an opera piece, he used the opportunity to learn more about opera and give it his best, instead of writing it off as a genre he did not do.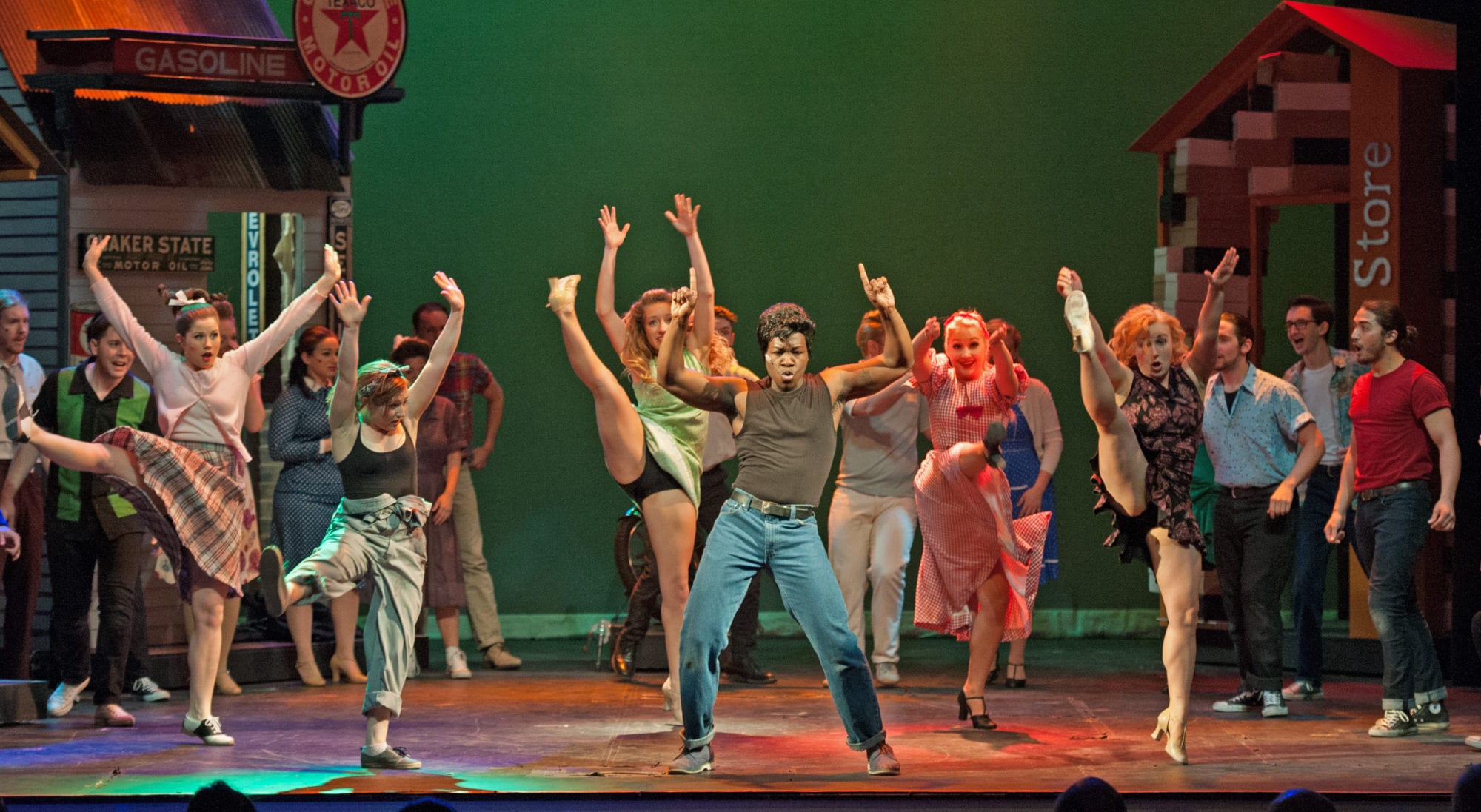 He had the whole audience say together: "know what you don't know."
"That way you don't limit yourself to only what you know," he said. "College is a great opportunity to abandon inhibition – you can be whoever you want to be. Be willing to look crazy and fall down. Be willing to discover. You're here to try, so try everything."
Lee said his Belmont professors gave him room to try those new things, and he talked about how receiving a liberal arts education was beneficial for his career. A performer cannot play many different roles, different people or different scenarios without real life experiences to pull from. Lee said his Belmont sociology class, which had nothing to do with his major, helped him become a better-rounded person.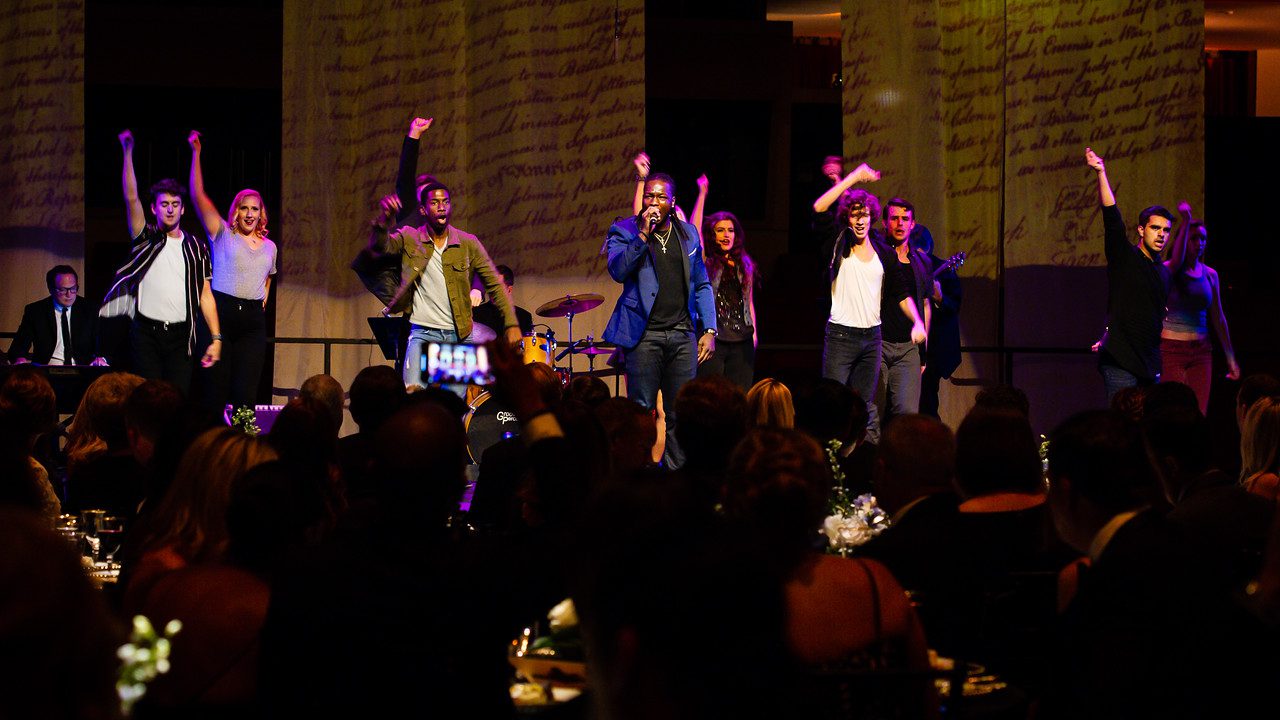 "People are hiring people; especially people they can relate to," he explained. "Living life outside of the arts is so important, and going to Belmont allowed me to live real life instead of just being a proficient singer and performer."
He was one of the first students to join community theater plays outside of Belmont. He spent all of his time dancing, acting and singing in whatever capacity he could find.
"What I said I wanted to do at Belmont had to take focus," said Lee. "You're an artist. The most important thing is your art. Are you doing what you say you want to do every single day? If not, I don't believe you want to do that thing for the rest of your life."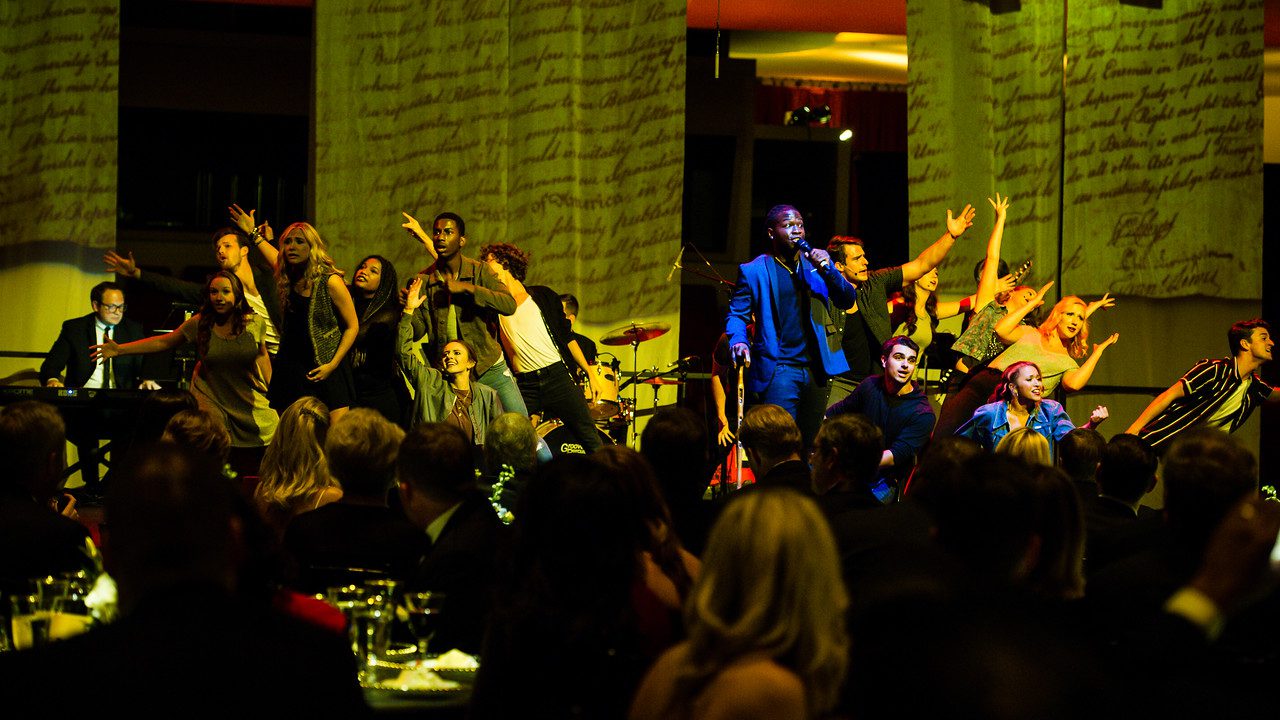 Lee and the audience also discussed messing up on stage, choreographed breath, favorite rappers, staying healthy and grounded and even which songs to include in their audition books.
While in town, Lee performed with a group of current musical theater students at the Tennessee Performing Arts Center's Gala ahead of their upcoming season, which will bring "Hamilton" to Nashville for the first time. The gala raised more than $380,000 for TPAC's six education programs.