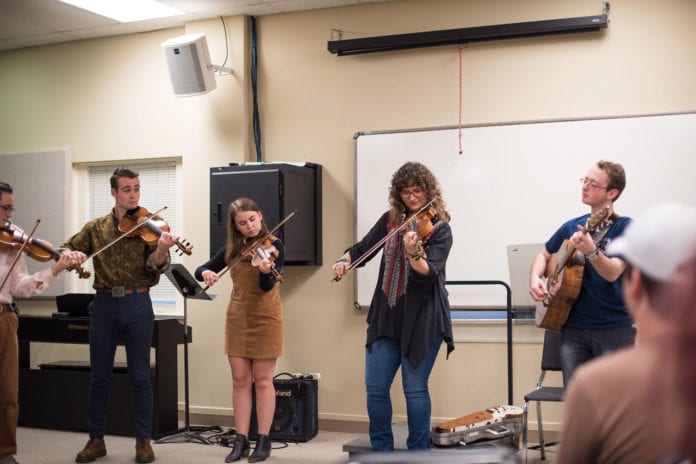 In 2001, Jenee Fleenor was a commercial music major studying applied private classical violin with School of Music Professor and Coordinator of Strings Elisabeth Small. This year, she made history as the first woman nominated for CMA Musician of the Year and the Academy of Country Music Specialty Instrument(s) Player of the Year.
Jenee led a master class at Belmont on October 7 where she listened to current string majors perform and offered helpful comments to each of the four student performers. She then spoke with the students attending the class, sharing experiences and heart-to-heart advice, followed by a Q&A session.
Small said Fleenor is a generous, humble person who is always open to new ideas, making her a wonderful colleague. "Jenee, as with all my former students, is like extended violin family," she explained. "In addition to her beautiful, God given talent, she was a focused student, and it was a joy to teach her. Jenee is so deserving of this nomination, and we are all excited about this ground-breaking accomplishment!"
The Billboard County Update explained the importance of her CMA nomination this way, "CMA voters tabbed men for 265 slots through the years before finally giving a female a shot at musician or, as it was originally known, instrumentalist of the year."
She's the first woman to be nominated in the award's 31-year history. The CMA Awards take place on November 13. A People Magazine article reads, "This is, after all, the year that the show is 'celebrating the legacy of women in country music,' so it would be only fitting for Fleenor to take home the award."
After leaving Belmont, Fleenor was hired to play in Larry Cordle's bluegrass band, Lonesome Standard Time, which put her on the Opry stage for the first time. A few months later, platinum-selling artist Terri Clark asked her to join her touring band. It was then that Fleenor made the decision to stay on the road instead of staying in school.
She spent several years playing in Martina McBride's band, and Blake Shelton extended the invitation in 2013 to join the house band on The Voice, which she's performed on ever since. She also plays in Shelton's touring band, and she's gone out on the road with Steven Tyler, playing both his country and Aerosmith music.
The 53rd Annual CMA Awards airs live Wednesday, Nov. 13 on ABC Television Network at 8/7 c.