Faces of Belmont : Alumni Impacting the World
This new series represents a collaboration between the Office of Communications and the Department of Public Relations, providing students practical experience in writing corporate bios and creating profiles of Belmont alumni.
Profile by Madeline Leesman
Jeannette Ceja is a bilingual travel journalist, travel host, travel expert and a global public speaker. Founder of Jet Set with Jeannette, she combined her love of media and travel into an internationally recognized brand. Ceja graduated from Belmont with a bachelor's degree in journalism in 2008.
Since then, Ceja has contributed as a travel journalist and travel expert for various outlets, such as Fox 11 KKFX, Frequent Flyer Magazine, Hip Latina and Travel Talk. She has interviewed numerous celebrities, politicians, athletes and travel experts including Anthony Bourdain, Samantha Brown and Rick Steves.
Ceja's calling to be a travel journalist began at age 12, when her family traveled through Europe for 10 days and visited eight countries. Ceja, who had never traveled outside of the United States and Mexico, felt determined to document everything she experienced on their journey.
"I got a notepad and pen and started writing everything down," said Ceja. "I got a disposable camera and just started recording everything. My eyes were opened to the world. I felt compelled to tell everyone how amazing the world is."
Years later, Ceja arrived at Belmont and began working towards her degree in journalism with the intention of becoming a travel reporter after graduation.
"I remember one of my first days at Belmont, I walked into Thom Storey's office and told him I wanted to be a travel reporter," said Ceja. "He told me exactly what I needed to do in college to be a travel reporter as my full-time job."
Ceja credits much of her success at Belmont to the late Thom Storey, the founder of the the journalism program at Belmont and former chair of the media studies department. Ceja describes Storey as her "mentor," "friend" and "biggest cheerleader."
"Belmont had so many expectations for you but in a good way," said Ceja. "If you didn't do your best, they knew it. They always pushed me to do more than I thought I could do."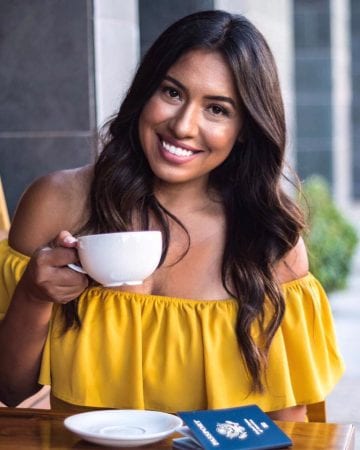 Ceja distinctly remembers the journalism curriculum at Belmont as "convergent," because students are required to learn how to write for news media, as well as photograph, create videos and understand journalism law and ethics.
In addition to the journalism curriculum, Ceja also gained valuable experience in the many forms of journalistic media offered at Belmont. She reported for the student-run television station, the school newspaper and the university's radio station. Additionally, she balanced her jam-packed schedule with an internship at The Tennessean, where she pitched story ideas and wrote for the publication.
Post graduation, Ceja moved to Los Angeles, California to pursue her passion of working as a travel journalist. Although finding work as a travel reporter proved to be difficult, she never gave up on her dream. Ceja continued her education at UCLA to study in the professional film and television producing program and worked in production for Fox Sports. In the meantime, she pitched different job ideas to prominent travel publications to create her own portfolio to advance her career as a travel reporter.
"The travel industry is amazing but very hard," said Ceja. "You have to do a lot of ground work and build yourself from the ground up. I never waited for any opportunities to fall into my lap. I went out and got my opportunities. And some of those seeds I planted years ago are helping me get opportunities now."
Since then, Ceja has visited more than 50 countries to date and makes appearances at travel conferences and travel workshops across the globe. She speaks English, Spanish and Italian fluently. Most recently, Ceja attended the World Woman Summit 2018 at the Clinton Presidential Center in Little Rock, Arkansas, where she worked as the official Travel Host.
"I aspire to be a Latina woman in the travel industry who is paving the way for other women," said Ceja. "Travel is the best gift you can give anyone – including yourself. I want more women to experience that."
In the future, Ceja plans on hosting more travel workshops as well as attending more travel conferences. Additionally, Ceja aspires to write a book surrounding the themes of travel, self-love and women empowerment to add to her already impressive resume.
"I love Belmont's saying, 'from here to anywhere,'" said Ceja. "Because you never know who you are inspiring and what opportunities will come to you when you are truly passionate about something."