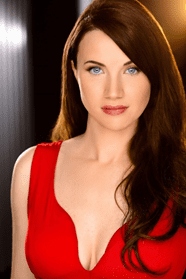 Belmont alumna, Class of 2010, Andrea Brooks Hickey stars in the romantic thriller, "Dying to Marry Him," which premiered exclusively via Lifetime Movie Club on September 24.
Hickey, who makes her Lifetime debut alongside Anna Marie Dobbins, plays an unrecognizable Amy, who "returns to her hometown and becomes the wedding planner for her first love with her mind set on getting him back no matter what the cost (Denise Petski, Deadline)."
"I had the pleasure of casting Andrea as the villain in my movie, and she has proven to be one of the most valuable people involved. She works to truly embody her characters to give an authentic, honest performance. Playing the villain is not an easy task, but Andrea did it effortlessly," said Producer Chris Lancey of "Dying to Marry Him."
Hickey also was recently accepted to join the Television Academy, a professional, honorary organization dedicated to the advancement of the television industry in the United States.
"This past year, I put on my vision board joining The Television Academy, becoming SAG-AFTRA, and premiering on Lifetime. I didn't know how or when those things were going to happen, but I wanted to put them in motion," said Hickey. "I kept believing that they would and trusted that my time would come. To be where I am at in my career today and have all those things come true is honestly the best feeling. I am so grateful!"
Hickey is a rising star in Hollywood with her past credits including roles on "The Young and the Restless" and "Wild West Chronicles."
She has proved a devoted passion for your dreams can lead to success beyond your imagination.
Learn more about Hickey, and do not forget to tune in for "Dying to Marry Him."