The Women in Science (WIS) club recently teamed up with Student Members of the American Chemical Society (SMACS) to celebrate National Chemistry Week with a number of events across campus. The week's festivities included a Mole Day Celebration, "Awesome Science," "Chemistry Colors the World: The Art and Science of Tie-Die," a chemistry and physics faculty picnic and "Spa Day Science." The Spa Day event featured opportunities for students to experience science in a physical way as student officers led three teams of students in creating sugar scrubs, lip scrubs and activated charcoal face masks.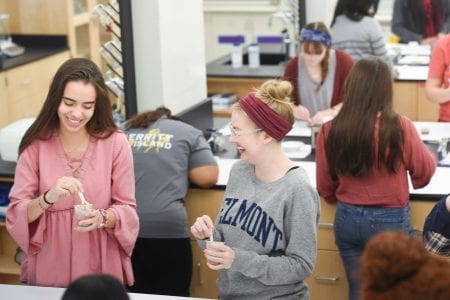 National Chemistry Week aims to share the relevance of the subject in every day life. Professor in the Department of Chemistry and Physics Dr. Rachel Rigsby said, "There are all kinds of chemistry in places where we don't necessarily expect it. These events are designed to teach students more about them."
Additionally, the Department is scheduled to host a birthday celebration for Marie Curie, a 19th century female physicist and chemist who conducted pioneering research on radioactivity, on Monday, November 6. Attendees will hear from guest speaker Dr. Judith Iriarte-Gross, director of the Women in STEM Center at Middle Tennessee State University, enjoy birthday cake and learn about current research projects at Belmont.