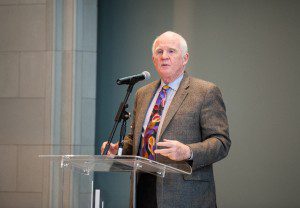 Belmont University held a number of notable events during the past two weeks to celebrate and honor the memory of Martin Luther King, Jr., including a visit from keynote speaker Taylor Branch Friday morning. A Pulitzer Prize winning historian, Branch wove comments on the recent film Selma into his remarks. Teaching on historical movements and the catalysts that spark them, Branch said movements are started by moments that move an individual to act, speak up and believe in something. "That's what a movement is," he said. "It's something like the language of emotion, connecting you to things that are an emotional challenge to you."
Branch said that people do not learn from abstract analysis, which is vague and reprogrammable, depending on the content. People learn from personal experiences that spark something inside of them. "Personal experiences move us in ways that scramble our ideas of what's real and possible," he said.
These moving moments resurfaced as Branch discussed several scenes from Selma. For instance, Branch describes Dr. King's call to end the march and go back to the church as the "peak of his leadership." Even though many did not agree with the decision, Branch said, "It shows you the complexity of ideas involved in keeping a movement going to engage in larger possibilities. He kept alive the possibility of a voting rights act."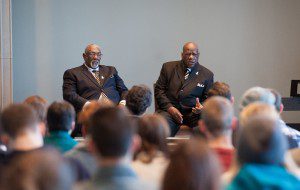 The past week also featured sessions by an eyewitness to the happenings in Ferguson, Missouri as well as a convocation led by two sanitation workers who marched with Dr. King in a 1968 strike. On Wednesday, Alvin Turner and Baxter Leach, two of the 15 remaining marchers from the 1968 sanitation workers' strike in Memphis, Tennessee, spoke at Belmont's Chapel. The pair marched with Dr. King to support the struggle for the sanitation workers' union. Turner and Leach took turns speaking about their experience of moving to Memphis when they were 16 and 14, respectively, while working to support their families on a salary of only $18 a week.
After two sanitation employees were killed due to unsafe working conditions, the cause for change gained momentum. "Their families were given a couple thousand dollars, and that was it. Two hundred of us met at the Union Hall, and we voted to strike. We didn't have enough for a strike. We went out on the faith of God," said Turner. "…Dr. King came, and after the first rally, he said he would come back and lead a peaceful march."
The 65-day strike ended with a march just days before Dr. King's last speech, "I've Been to the Mountaintop," given the night before his assassination. Two weeks later the 1,300 members of the group were given union recognition, wage increases, promotions and job assignments.
Turner reflected on how the work of Dr. King changed history and urged the audience to pray for President Obama. "In [Dr. King's] speech he said he had been to the mountaintop and peeked over and saw the Promise Land. I have often wondered, 'what did he see in the Promise Land?' Then it came to me, he saw my Lord," said Turner. "Dr. King saw my oldest daughter retire from the navy with a good job in the hospital in Memphis. He saw my middle daughter over two colleges in Atlanta. He saw my baby daughter with a job at UT. He also saw Barack Obama in the White House. This is what he saw in the Promise Land. It's up to each one of us to see that the dream comes true."
The Wednesday chapel convocation was co-sponsored by Massey College of Business and the Edward C. Kennedy Center for Business Ethics. A full list of Belmont's 2015 MLK events can be found here.