The Mike Curb College of Entertainment and Music Business started the spring semester off strong with three conversational events with industry professionals. All of the events focused on exposing students to different career opportunities in the music industry and highlighting alumni success.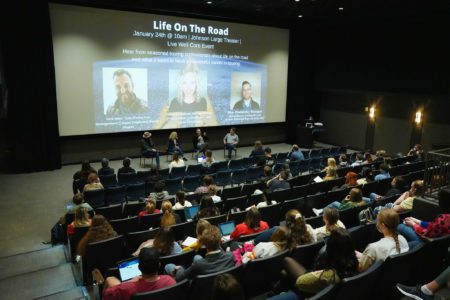 The first event, "A Conversation with Belmont Alumna Kayla Becker," featured former mass communications major and class of 2013 alumna Kayla Becker. During her time as a Bruin, she created her own, original online content to highlight Belmont teachers, staff and athletes before expanding to highlight Nashville talent and small businesses. Once Becker graduated, WESH 2 News, a local TV station in Orlando, hired her to launch and host a local entertainment show, "Orlando My Way." During her run on the show, Becker highlighted local restaurants and tourism hot-spots, hidden gems and Central Florida night-life.
From there, Becker accepted a position at WWE. Initially she was hired as a ring announcer and backstage interviewer for the developmental brand "NXT," but in recent years has been elevated to a backstage correspondent for Friday Night Smackdown on FOX, the host for Pay-Per-View kickoff shows and the company's morning show, "WWE's The Bump."
The second event, "Life on the Road," featured Zito, Andria Goodrow and Nick Weir. All of the guests hold touring positions with acts such as: Ariana Grande, Sia, Green Day, Justin Timberlake, Justin Bieber, Motley Crue, Lauren Daigle and many more. The guests discussed life on the road and what it takes to work in touring.
The final event, "In The Q with Belmont Alum Cameron Bedell," was a Q&A style event with Country/Soul and R&B singer/songwriter and producer, Belmont alumnus Cameron Bedell. Bedell has written and produced for numerous acts such as Hunter Hayes, Tiera, Dylan Scott, Seaforth, Lauren Alaina, Jimmie Allen and many more. Bedell currently writes for Liz Rose and Warner Chappell. At the event, Bedell discussed his career thus far and gave advice to future music industry professionals.
The Curb College already started the spring semester off on a great note and has much more in store. To see all upcoming Curb events, visit their Bruin Link page.