Location will offer adult degree programs, rental opportunities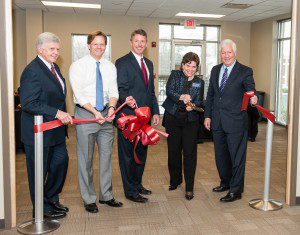 Belmont University officially cut the ribbon today on a new professional education and corporate meeting facility in the heart of the Cool Springs business community. The new Williamson County location, located at 310 Billingsly Court, will provide easily accessible classrooms in Cool Springs for courses in Belmont's adult degree, professional and continuing education programs, as well as event and meeting rental space for area businesses and organizations.
Belmont University first opened a satellite location in Cool Springs in 2002 on Seaboard Lane, allowing thousands of Williamson County residents and employees close access and opportune times to take classes to "finish what they started" through the University's Adult Degree Program. With newly renovated classroom space, options for corporate meeting rentals and developing plans for expanding graduate and continuing education opportunities at this site, this new 6,300 square foot location intends to further cultivate Belmont's influence in Williamson County.
Belmont Provost Dr. Thomas Burns said, "Opening this new location in Williamson County aligns perfectly with Belmont's commitment to serve Middle Tennessee with significant educational opportunities. Our desire is to use our resources to serve the ever-changing needs of the people in our community, and this new site will further promote our longstanding efforts to provide a convenient venue for the ongoing educational needs of adult learners and professionals who live or work in the area."
In the future, Belmont plans to expand the offerings at the Williamson County site to include graduate business and health science courses, as well as general continuing education classes. Additional details on those programs will be announced when available.
For more information on Belmont's new Williamson County space, contact Sara Gibson (sara.gibson@belmont.edu, 615-460-5430). For additional information on Belmont University-Williamson County, visit belmont.edu/Williamson/.