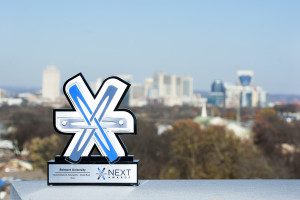 Belmont University made a big impact in last night's Next Awards, which recognizes innovation in business and entrepreneurship in Middle Tennessee. The competition, which rewards both individuals and companies and is built around the concept of "what's NEXT in the entrepreneurial landscape of Nashville and Middle Tennessee," is run by the Nashville Area Chamber of Commerce and the Nashville Entrepreneur Center.
Three Belmont students—Tim Downey (Picd.us), Ben McIntyre (Internpreneur) and Channing Moreland (What's Hubbin')—were named in September as the top finalists in the Young Entrepreneur of the Year field with Downey taking home last night's trophy.
Downey's business, Picd.us, was started with co-founder and fellow Belmont student Geoffrey Gross in July 2014 around the idea to incentivize a company's customers to post brand-related content to their social media accounts. This in-turn will broaden the company's digital market reach. Downey and Gross have been busy with launching their website, starting the patent process, working on web design and product mockups as well as pitching their ideas to potential investors.
Downey said, "To have this award from Nashville is an incredible form of validation that my work is really making an impact… Belmont assisted me in my success through the incredible entrepreneurship professors. The time and attention that every Belmont entrepreneurship professor has shown me is unreal. This award is going to benefit my future just by continuing to push what I expect from myself.  I honestly did not think I was going to get it, because the work Ben McIntyre and Channing Moreland have done is absolutely incredible, and I look up to both of them so much.
Junior Moreland was nominated for her work with fellow Belmont students Makenzie Stokel and Seth Clarke to expand the success of their startup What's Hubbin,' a company founded to help Nashvillians navigate through the local music scene. The trio also were the winners of the 2014 Belmont Student Business Plan Competition hosted by the Center for Entrepreneurship.
Launched last year, What's Hubbin' has more than 3,000 users in the Nashville area including students, area residents and tourists. Users can view a calendar of shows at various stages and explore short profiles of all the local venues and local artists, tailoring their user profile to their own musical preferences.
Entrepreneurship major Ben McIntyre, who was also chosen to compete in the National Entrepreneurship Organization's (EO) Global Student Entrepreneur Award competition, was named a finalist for his business, Internpreneur, a company which partners with employers to create "high-impact internship programs where businesses get real projects done and students get the experience and hands on learning they need to move into full-time employment after graduation."
The young entrepreneurs were scored by a panel of judges who graded candidates on their entrepreneurial spirit, their product/service and their company's ability to create jobs and add value for stakeholders.
Companies and organizations, meanwhile, were judged across five industry categories: digital media/entertainment, health care, social enterprise/sustainability, technology and products/services. Corporate eligibility was measured by each stage of growth regardless of industry with the categories titled Startup, Growth and Market Mover. Belmont University won the Market Mover field in the social enterprise/sustainability category.
Belmont President Dr. Bob Fisher, who was on hand to accept the University's award, wrote in the University's Next application, "While many higher education institutions focus on career training and personal success, Belmont seeks to offer a truly transformational education. The university aims to develop individuals holistically—intellectually, spiritually, socially and physically—and to empower students to develop their gifts so that they can engage and transform the world. These efforts attract the best and brightest students from every state and 25 countries. With a focus on efficiency and cost control, Belmont carefully manages resources and diligently analyzes the budgeting process to ensure fiscal strength. As a nonprofit institution, our priority is on serving our students well."
To learn more, visit www.nextawardsnashville.com.
For a audio recap by Belmont alumnus and Online Events Manager at Nashville's TechnologyAdvice, Clark Buckner, see below.