New program equips graduates for rapid career success, advancement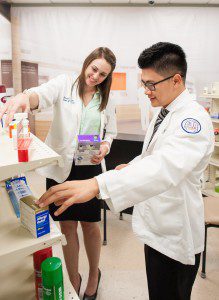 Starting in fall 2015, prospective pharmacists can pursue the only dual PharmD/MBA degree available in Middle Tennessee at Belmont University in Nashville, the nation's healthcare capital. Unlike similar programs around the country that require a minimum of five years' study or offer MBA courses primarily online, Belmont PharmD/MBA students can complete all the requirements for both degrees within four years and will enjoy Belmont's signature personal interaction from experienced, highly regarded faculty. Moreover, students can complete the degree at a reduced tuition from doing the programs separately.
"The modern practice of pharmacy is constantly evolving, and now—more than ever before—it's imperative that new PharmD graduates also enter the workforce with a strong business acumen," said Dr. Phil Johnston, dean of Belmont's College of Pharmacy. "Regardless of whether a graduate works in a retail, institutional or research site, they must possess robust entrepreneurial skills in business forecasting, employee management, corporate finance and more. A PharmD/MBA dual degree is a timely addition to Belmont's offerings."
Dr. Joe Alexander, associate dean of Belmont's Massey Graduate School of Business, added, "This is a logical extension of our mission to provide business education and thoughtful leadership to the working professionals of Nashville and the Middle Tennessee region. Due to our flexible week-night and summer course schedule, students can complete their MBAs in the same four years as their PharmD while also participating in the internship, study abroad and clinical practice experiences each program requires. Belmont PharmD/MBA graduates will be uniquely prepared for rapid career development."
According to a 2008 report published in the American Journal of Pharmaceutical Education, the average total first-year compensation for a PharmD/MBA dual degree graduate was 15 percent greater than that of a PharmD graduate. Interestingly, despite the rigor of both programs, students taking the dual-degree route in the study performed better academically, indicated a higher level of program satisfaction and reported increased career opportunities.
Dr. Mollie Allen, manager of professional and college relations for CVS Health, said, "In our latest CVS Health survey of the recent PharmD grads we've hired in the past four years, we asked them to rate a number of necessary areas of responsibility they encounter in their daily work. General business knowledge and management skills ranked as one of the top three areas they felt needed the most growth and additional training. Belmont's new dual PharmD/MBA program will certainly play a key role in filling an important gap today's pharmacists are perceiving in themselves as they enter the marketplace and better prepare new graduates to quickly succeed."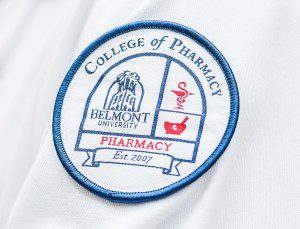 Prospective PharmD/MBA students would also be hard-pressed to find a better program. Belmont Pharmacy boasts a 95.33 percent three-year average first attempt pass rate on the North American Pharmacist Licensure Examination (NAPLEX) in addition to 30 full-time terminally-degreed faculty and a low 10:1 student-to-faculty ratio. Meanwhile, Belmont's MBA program is consistently lauded by both Princeton Review and BusinessWeek, the latter of which ranks Belmont's Part-Time MBA as the top program in the state. In fact, in its recent report BusinessWeek noted that Belmont's "faculty experts, innovative courses and small class sizes, as well as dynamic internship, service and study abroad opportunities combine to provide an exceptional learning experience." Combine those accolades with the location in Nashville—where the health care industry contributes more than 200,000 jobs to the local economy annually—and it's difficult to imagine a better fit.
Applicants to the dual PharmD/MBA degree must meet the requirements for both the Pharmacy and MBA programs. Prospective PharmD/MBA students should visit the dual-degree program's information web page for specific application instructions, curriculum information and admissions representative contact information. Email inquiries may be sent to pharmacy@belmont.edu. The PharmD/MBA application deadline is March 1, 2015 for Fall 2015 admission—this is a competitive program so early applications are recommended.
About the Belmont College of Pharmacy
Founded in 2007, the College of Pharmacy at Belmont University prepares a new generation of health professionals to meet the changing needs of pharmacy practice with a future-oriented Doctor of Pharmacy (PharmD) degree. Belmont Pharmacy seeks to become a nationally-recognized practice and leadership center with a five-pillared approach that will allow students to concentrate on pharmacy management, information management, pharmacotherapy, missions/public health or the MBA/PharmD Dual Degree. The college intends to be a prominent resource for training and supporting competent, compassionate practitioners with a passion for life-long professional improvement and service to the profession and patients. For more information, visit www.belmont.edu/pharmacy.
About The Jack C. Massey Graduate School of Business
The Jack C. Massey Graduate School of Business offers high-quality graduate business programs designed for working and aspiring professionals looking to advance or switch careers. The curriculum is designed to provide challenging, yet practical content in a flexible format. Programs are designed to stimulate critical thinking and creative problem solving while encouraging strong communication skills and a solid framework for ethical business decision-making. In addition to core coverage in business administration and accounting, the curriculum is uniquely structured around the themes of entrepreneurship and ethical decision-making across the global economy. All students complete a brief international study-abroad experience as part of their studies. For more information, visit www.belmont.edu/massey.